Google brings Brownie's robot to life to tackle loneliness
Eight-year-old Amy of 1st Copmanthorpe Brownies, North Yorkshire, is announced winner of design a robot competition.
Girlguiding and Google announce the winner of a UK-wide competition calling for Brownies to invent their own robots, for the chance to see their invention to be brought to life.
Brownie, Amy aged 8 from North Yorkshire is announced winner of Girlguiding and Google's robot competition with thoughtful design
Suki aged 8, from Wiltshire receives a special commendation for her innovative Munchkin robot invention to deliver food safely during the pandemic
Girlguiding and Google's partnership provides opportunities for girls and young women to develop new technology skills having fun along the way
The competition launched last November as part of Google's Digital Adventure* challenge for Brownies, under Girlguiding and Google's partnership, which aims to inspire more girls and young women to engage with STEM and pursue careers in technology.
Amy, aged 8, of 1st Copmanthorpe Brownies, North Yorkshire beat hundreds of entrants to be crowned winner, with her clever and eye-catching robot entitled Broogle. She designed it to keep older people company – with removable fur to stroke doubling up as a blanket, an oven to bake, ability to make cups of tea and safety storage features to prevent accidental spills or trips.**
Talking about her winning design, Amy said:
"I knew I wanted to make a robot cat as a companion, because many people have been sad and lonely during lockdown, especially older people.
"I have been writing to a 90-year-old woman in my village. We have not met but she told me it is good to have a friend in lockdown. I thought a cat would be a purrr-fect friend! and she should be like a Brownie and lend a hand. I have named her Broogle, a mix of Brownie and Google. It is pronounced Brew-gull because she brews tea!"
Amy, who would like to become a scientist when she is older, continued: "I love to invent things and build models. I have also learnt [through Google's Digital Adventure] to code and really enjoyed working out how to make the algorithm for my robot."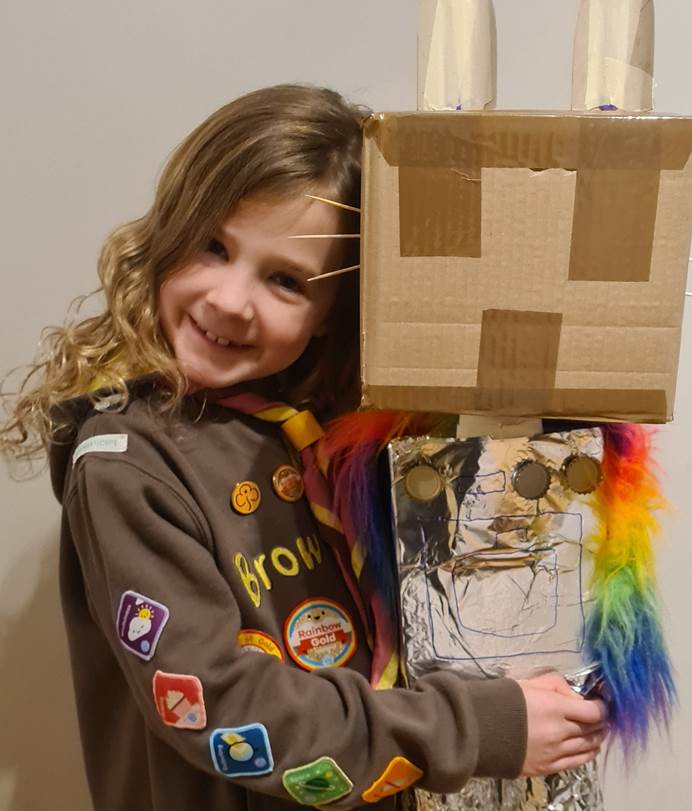 Google motion designer, Laura Dumitru has now brought Broogle to life as an animation, using Amy's own voice for its commands. As part of the prize, Amy's Brownie unit will also have the opportunity to participate in a special online workshop run by Googlers, where they will learn how to animate their own designs and be able to put questions to the team about what it's like working at Google.
Special commendation for Munchbot
A special commendation was given to eight-year-old Brownie, Suki for her Munchbot, designed to transport food safely to people in hospital and care homes, whilst bringing a smile to their faces during the pandemic.
Suki, a member of the 1st Bishops Cannings Brownies, Devizes, Wiltshire said: "I feel so happy to have been awarded a special commendation. The pandemic made me think about the people in hospital and care homes and I wanted to design something to help them. I thought this would be a safe way to give people their food and make them smile as well.
"It was fun to make and kept me very busy. During the first lockdown I had to shield, so that meant 12 weeks of not stepping outside our front door. Lots of my Brownie activities kept the whole family going and I've earnt 12 interest badges in the last year."
Brownies rise to the challenge
To enter the competition Brownies were challenged to design and create their own robot and think of a task they wanted their robot to do, or a problem to solve and the steps needed to complete the task - without needing to use a computer to ensure it was accessible to all girls.
The role guiding plays in supporting girls' and young women's wellbeing has been increasingly important throughout the past year. Girlguiding has been keeping members connected with virtual weekly unit meetings, enabling them to keep in touch with friends, have fun and learn new skills. In April last year, the charity also launched the Adventures At Home hub, packed full of fun activities available to all children and young people.
Amy's mum Beck Said: "Amy joined Rainbows aged 5 and has loved every minute of her guiding experience ever since. Brownies has been all the more important over the last 12 months. I'm truly impressed and grateful to her leaders for keeping weekly meetings going online - these have been a single point of consistency throughout, and a chance for Amy to mix with her friends and continue to try out new things."
"Amy really enjoyed building a model of Broogle, after spending hours chatting to people about all her ideas."
Angela Salt OBE, Girlguiding CEO, said: "It was inspiring to read all the wonderfully creative Brownie robot inventions. Both Amy and Suki's designs had so much thought behind them and recognised the importance of community and helping others, which is at the heart of Girlguiding's mission. It's been a challenging year for everyone, especially children and young people, so we're delighted to be able to offer these fun activities and to celebrate the girls' creative designs. Through our partnership with Google, we're building on our offer to give girls skills for their futures and specifically to encourage more girls and young women to learn and have fun with STEM."
Nicole McWilliams, Software Engineering Manager of Google said: "We were so impressed by all of the Brownie's submissions. The competition was another great example of how our partnership with Girlguiding can expand the horizons of children and change perceptions of technology through fun activities. The entries were incredibly creative and carefully designed from algorithms through to robots features and details. We could tell a significant amount of time and effort was put into designing how the robots would fulfil their tasks."
The animation of Amy's robot Broogle, is available to view on our blog.
Need more information?
Get in touch with the Girlguiding press office for more information on our stories. We can also send you our latest press releases and provide comment on breaking news.