Seven new things to try this summer
Summer is a great time to get outside and explore, so we thought we'd suggest a few fun activities to get you started
Girlguiding digital team
23 July 2019
Summer is a great time to get outside and explore, so we thought we'd suggest a few fun activities. If you try any of these out then please feel free to tell us about it on our Twitter or Facebook - we enjoy seeing it, and you may inspire other girls to get involved!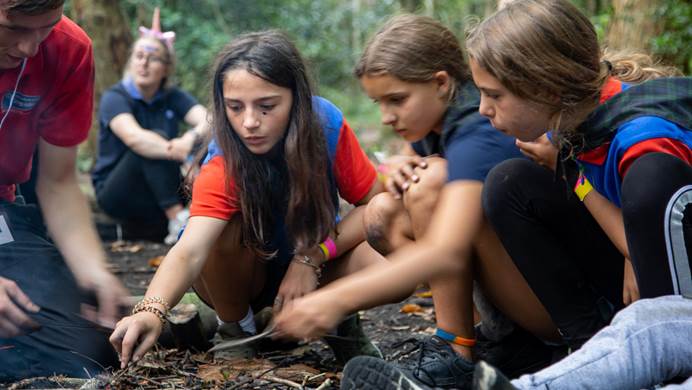 1. Stargaze in your garden
Sometimes the greatest memories can be made right in your own garden. One night, why not wait until it's completely dark and then look up and see how many stars you can count together? You can pop up a tent for warmth, or just bring out some sleeping bags and cushions – don't forget the hot cocoa!
2. Play a game of footie
The Women's World Cup may be over for another year, but the passion they inspired is here to stay. Why not try practising some keepie-uppies together or having a kick about against a wall? If they're a pro, then pick a sunny day and organise a game with some of her friends – best get slicing those oranges now!
4. Start an appreciation journal
When you're having fun, life can speed by. One way to take a breather is to keep an appreciation journal. It's simple – once a day you both write down something you were grateful for that day. It could be having fun with a friend, eating some tasty food, or going on a nice walk. At the end, you read through your entries together and remember what an awesome summer it was.
5. Geocaching
Want to join the world's biggest treasure hunt? Use coordinates found on their website to search for hidden caches in your local area. Alternatively, why not make your own for others to find? As a bonus, Guides can gain their Geocaching interest badge.
6. Create your own ice lollies
Making your own ice lollies is so easy, you'll wonder why you've not been doing it every summer. All you need to do is mix water or lemonade with something fruity – cordial or pureed fruit is perfect – and then pour them into some ice lolly moulds, and into the freezer! Why not try coming up with recipes together, and trying out different combinations? If you're feeling brave, you could host a taste test with friends or family and see who makes the tastiest ice lollies!
7. Plan a photo scavenger hunt
This activity is great, because it gets everyone outside and wandering whilst keeping it competitive! To plan a photo scavenger hunt, you'll need to make up a list of things to take pictures of – some examples are photos of three different colours of cars, someone walking a dog, and the tallest tree you can find. At the end of the hunt, count how many photos you each achieved and declare the winner!
8. Press flowers
Pick the prettiest flowers you can find together, and then pop them on some paper between the pages of the heaviest book you have. Leave them for one month, and then you can use them to make a collage or frame on the wall. They also make great gifts!
Share your story
Have you got a story to tell? We're always keen to hear and share tales of what you've been up to with Girlguiding.