5 ways to show pride when there's no parade
Even though many Pride events are postponed, we have some ideas for showing how proud we are.
June is Pride Month – an annual celebration of the LGBT+ community.
Most years, we'd be getting ready to attend events, parades and marches to show our support for our LGBT+ young members, volunteers and staff. But this year things are different. In some parts of the country, Pride events are going ahead, but for many of us the parades have been postponed until later in the year.
But that doesn't mean we can't still celebrate this month! Check out our favourite ways to get involved in Pride even if we have to stay at home. You can explore these activities as a unit, or give them a try at home.
1 – Fly the flag
Create your own versions of the iconic Pride rainbow flag. Learn about how this flag came to represent the LGBT+ community as you get crafty and colourful.
Blow your own - on a piece of paper pour out your paint (in red, orange, yellow, green, blue and purple) in stripes that make a rainbow shape. Leave a bit of white space between each colour. Next, grab a straw and start blowing! You can direct your breath to spread the paint to blend and shape your rainbow flag!
Bake the rainbow – there's loads of ways to add a rainbow to your meal! Try a stack of colourful pancakes for a breakfast full of Pride. Or make bright rainbow fruit kebabs by arranging different fruit – we recommend using raspberries, strawberries, orange pieces, mango, pineapple, kiwi, green and red grapes and blueberries to show all the colours of the rainbow in a delicious snack.
The very first rainbow flag was sewn together by a group of volunteers in the 70's. The idea for the rainbow colours came from a man called Gilbert Baker. He was an artist and LGBT+ activist who lived in San Francisco.
Since then, different versions of the rainbow flag have been created for different communities and different countries. A popular version is called the Progress flag, designed by Daniel Quasar. It was created to include even more LGBT+ people than the original design. As well as the rainbow, it has an arrow added to the left hand side with new colours that show the pride of people of colour, trans people, and people living with HIV/AIDS as well as those who have been lost to the disease.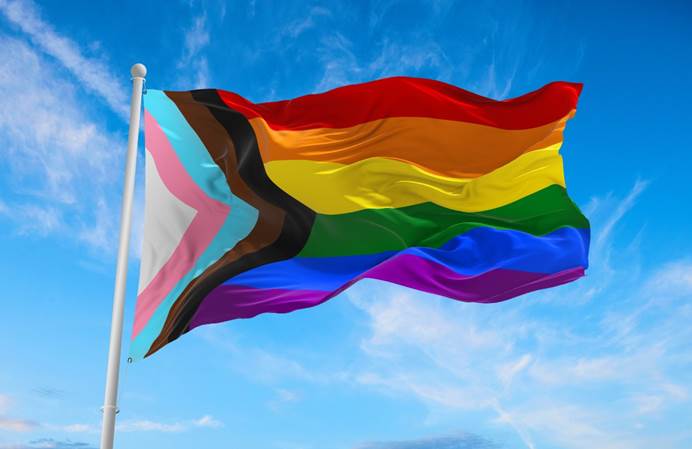 2- Explore the history
The first Pride march was on the anniversary of the Stonewall uprising, an important event in the fight for LGBT+ rights. So it's a great time to look back at the history of LGBT+ activism and learn about how the community has worked hard for freedom and acceptance. There's many fascinating people who've been involved in this struggle who can inspire us all to speak out and take action today.
Marsha P Johnson and Stormé DeLarverie played a key part in the events at Stonewall that kickstarted the movement in 1969. Later on, in the 80s, the group Act Up used striking poster designs and creative protest actions to campaign for better research and treatment during the HIV/AIDS epidemic.
And we had some amazing figures making change the UK as well. In 1988 the British government passed a law called Section 28 that stopped schools and local authorities from talking about, or giving money to, LGBT+ communities. LGBT+ people spoke out against this – and many women got involved in the call for change.
Booan Temple famously ran onto the set of BBC News to protest the law, other women took inspiration from the suffragettes by chaining themselves to the railings at Buckingham Palace. And Sally Francis joined a group of lesbian campaigners who abseiled into the House of Lord. Section 28 was later repealed, but not until 2000-2003.
Spend your Pride Month finding out more about LGBT+ history around the world – it can be great inspiration for the Campaigning, Protesting and My Rights badges!
3 – Look to the future
It's important to understand our history, but who are the LGBT+ icons making change today?
There's more representation of LGBT+ identities in films, on tv and in books than ever before. Who inspires you today?
During LGBT+ History Month earlier this year, we asked girls to tell us who they admired – and there's many modern names on the list. Your inspirations don't need to be famous - is there anyone in your life, your local community or in guiding who you look up to?
Spend time this month looking toward the future of LGBT+ rights – who's making a difference right now? What about them inspires you? Can you learn anything from them to bring into your life? Talk to girls about their pride role models and encourage everyone to share what they've discovered.
4 – Read all about it
Explore stories of LGBT+ lives with books for all ages – you could read and talk about these titles in a special Pride book club.

Younger girls can learn about individuality and being themselves – and enjoy the beautiful illustrations - in Julian Is a Mermaid by Jessica Love. They can follow the story of a girl learning all about her Granddad's life of adventures with Gramps in Granddad's Camper by Harry Woodgate. Harry reads the story and shows us a great drawing activity in this storytime video.
Girls in Guides and Rangers could explore history in From Prejudice to Pride: A History of the LGBTQ+ Movement by Amy Lamé. Or relax with a novel and enjoy Every Day by David Levithan or The Miseducation of Cameron Post by Emily M Danforth – which has also been adapted into a movie.
You can find great LGBT+ books for every age groups in these fantastic Pride month reading lists from Words for Life.
5 – Make a difference
If you're a Girlguiding volunteer and want to make a difference for LGBT+ people in your community, find out if your area is looking for an Inclusion advisor.
In this role you'll be a specialist in a particular field of inclusion and support to volunteers at all levels. You'll help our members provide a safe, girl-only space where all girls and young women can discover their full potential through all areas of the programme, regardless of their background. Get in touch with your region team to find out if they're recruiting for Inclusion advisor roles.