100 years of Foxlease
On June 2, 1922, Foxlease opened as a Girlguiding Activity Centre
On 2 June 1922, Foxlease opened as a Girlguiding centre.
100 years later, it still offers fun, friendship and adventure. Nestled in the heart of the New Forest, Foxlease combines the charm of a Georgian manor house with the high-energy thrills of adventurous activities.
Vicky, a local leader, is a volunteer at Foxlease and a member of the group planning the centre's centenary celebrations.
'My first ever visit to Foxlease was in 1999 when I volunteered at the amazing World Camp,' says Vicky. 'It was a brilliant experience; I was part of the team organising the opening and closing ceremonies. My favourite memory has to be DJ-ing for 3000 people at the end of the final night of the World Camp, something I'd never get the chance to do elsewhere.
'Since then, I've been many times both bringing my units for overnight experiences, helping at Skoolz Out, the school holiday club, or volunteering at large-scale events including Wellies and Wristbands and Magic and Mayhem.'
Vicky is also part of the Friends of Foxlease, a group that helps maintain and improve the site. The group is celebrating its 60th birthday this year.
It's chair, Gwen says: 'Its aim is to promote and encourage training and development by donating from its funds, which come from its fundraising activities, donations, and legacies. Members also enjoy volunteering, helping with jobs inside the house and around the grounds.'
In the past year, Friends of Foxlease have helped improve the centre's lake and funded a new landing stage. They've also created a Memories of Foxlease Book, a centenary calendar, a centenary jigsaw and CD to raise funds.
'My first job when leaving school at 16 was as a junior house assistant at Foxlease,' says Gwen. 'I learnt many skills that have helped me through my working life and all my family have been involved in guiding as a significant part of growing up and in our adult lives. I enjoy being at Foxlease, it is my "home from home". Foxlease has changed much over the 100 years since it was given to Girlguiding, but it still has the same peaceful, welcoming charm that it has always had.'
Sharon is our lead volunteer for the national activity centres. As well as Foxlease, there's Waddow Hall in the north of England, Glenbrook in the Midlands, Blackland Farm in the south, and ICANDO in the centre of London. They all host lots of events, from big Girlguiding events like Fearless Fun and Magic and Mayhem, to smaller, non-member events such as our Wellness Weekend and family fun days.
'One of my favourite places has to be the awesome tree behind the house,' says Sharon. 'I love sitting on the terrace looking at the tree and thinking that Robert and Olave Baden-Powell sat looking at that very same tree and that generations to come will enjoy it too.
'And the house is crammed packed with history which is fascinating. During the opening of the World Camp in 1924 and 1999 the VIPs stood on top of the entrance to Foxlease on the roof. I don't think any risk assessment would let us do that now!'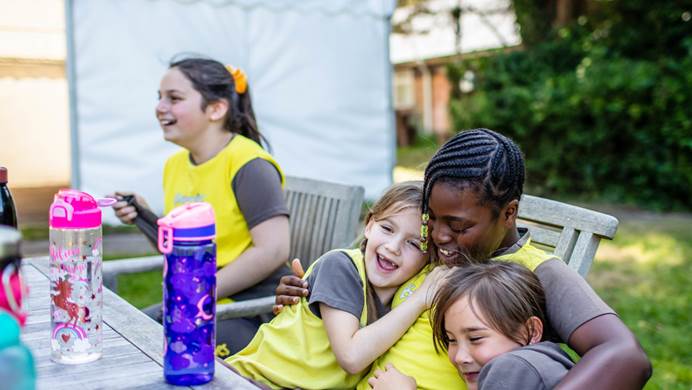 Historian and member Deborah discovered Foxlease while doing her PhD.
'At Foxlease, I found a stunning resource that told the guiding story from the "grassroots" perspective and, in doing so, challenged the popular history of not only guiding in the UK but the history of girls and women around the world.
'Foxlease is the cultural hearth of our collective identity as a world movement of girls and women. It was at Foxlease that the Guides and Girl Scouts of the world first met together as one family. It was the place where we all sat at one table for the first time as a family. We played in these fields together for the first time as one family. Before Foxlease, the Guides and Girl Scouts of the world were all playing a similar game but separately but we never saw ourselves as one movement, sisters in an identity that rendered nationality and religion and race second to our sisterhood. Now, isn't that something incredible and something worth visiting, witnessing, and… worth saving?'
For Deborah, who grew up as a Girl Scout in the USA, lead volunteer Sharon, leader Vicky and Friends of Foxlease chair Gwen, there's a common thread of friendship, guiding history, adventure and the home of a worldwide movement of girls and women.
'I tell people that Foxlease is my Girlguiding home,' says Vicky. 'For me, Foxlease is a place where I've made so many friends and had so many amazing experiences and opportunities. My hope is that it continues to go from strength to strength and is truly recognised for the important role it plays in Girlguiding's history and its future. There are so many opportunities to have amazing experiences at Foxlease and I'd love it if everyone felt enabled to visit at least once during their own guiding journey.'
Bryan Davies, centre manager at Foxlease, agrees. 'For many of our visitors, Foxlease is so much more than an activity centre. It's a place for friendships to flourish and memories to be made. We hope that girls and leaders will continue to visit us for years to come to make their own memories to last a lifetime.'
Find out more about Foxlease's centenary and see what events are happening throughout this year and beyond on the Foxlease centenary webpage.
Camp or stay at one of our activity centres