Disability and guiding
How to remove potential barriers for disabled members so they can participate in guiding activities
It is estimated that more than one in every twenty children are disabled*.
Thinking about accessibility, and making adjustments to remove barriers for disabled members, is all part of making guiding accessible to all girls.
*According to a report from the Department of Work and Pensions 7% of children are disabled.
What do we mean by disability?
When we talk about disabled members, we also include members who have long-term conditions. Disabilities and long-term conditions can include (but are not limited to) mental health problems, physical impairments, sensory impairments, learning disabilities or long-standing medical conditions.
Examples might include:
Diabetes
Autism and neurodiversity
Anxiety
Hearing impairment
Chronic pain
Asthma
Cerebral Palsy
Visual impairment
This isn't a complete list, and it's worth remembering that not all disabilities will be immediately obvious to you or to other girls in your unit.
Removing barriers
To include disabled members in our activities, we need to remove the barriers they experience. These barriers may be physical – like stairs can be a barrier to a wheelchair user needing to enter a building - but could be due to negative attitudes, prejudice or stereotypes. When we remove these barriers, disabled people can be fully included, have independence, choice and control.
The best thing I've ever done in guiding is learning to believe in myself. Guiding made sure that I viewed my wheelchair as my passport to life, not the end of my life. - Caroline, young member
What you can do
You can take small steps to make a big difference to the guiding experience for disabled members.
Including disabled young members
Take a look at our good practice guidance for including disabled young members.
Making adjustments
By making adjustments, we can remove the potential barriers that disabled members face.
Adjusting activities
As a leader, it's important to adapt activities so that all girls can take part.
Our programme resources, including activity cards, skills builders, badge books and handbooks, are available in a range of accessible formats.
If a member needs these resources, please email [email protected].
One to one support
In some circumstances, a girl may benefit from one-to-one support to help her take part in guiding. This option should always be discussed with a young person and their parents/carers before being decided on.
Flexible transition ages
Some disabled young members can find it challenging to move to a new section, so we are flexible on the upper age range of each section, up to a member's 26th birthday. This means disabled members can access the programme that's most appropriate for them and move on to the next section when they feel ready.
The decision about when to move up should be made in consultation with the young person and their parent/carer.
Promoting guiding to girls
Disabled girls may be less likely to consider joining a unit; they may be worried that guiding won't be able to adapt activities to include them, or that they won't have access to the same opportunities.
Promoting guiding to teachers, parents, carers and friends of disabled girls is always a good start. Explain that around 20,000 of our existing members are disabled or have long-term conditions.
Promoting guiding to potential volunteers
Find out what you can do to recruit disabled adults to your team, including flexible approaches to volunteering.
Need more support?
For further support or information, please contact your commissioner or county adviser or the inclusion team at HQ.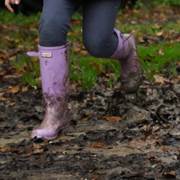 Jill Crowson, Leader, Freebridge Marshland Rangers
Our unit now has nine girls, including four with learning difficulties and other additional needs We all meet one Saturday a month to enjoy the programme, with some extra support.
Get advice on including all
Contact us for more information and advice about including all girls and volunteers in guiding.
Email us
Supporting disabled members and girls