How we support disabled members
We make sure that disabled girls and girls with long-term conditions can experience the fun and friendship of guiding.
My husband and I were both nervous about the first Brownie holiday as it was the first time that Elice had been away from home. We were incredibly grateful to the leaders and the girls for giving Elice the opportunity to experience the independence and fun of a Brownie holiday - Kirstie Ferrett - Mother of Elice, a ten-year-old Brownie with a chromosome deletion disorder
Guiding is about actively involving everyone
Our activities are flexible enough to allow every member to take part, and we make any adjustments that are needed to make that possible.
Support for disabled girls
Our Accessible Guiding grant

– ask your unit leader about our grants that help make guiding accessible for all.
Guidance for leaders on including disabled members and making adjustments, including advice on adapting games and activities for all young members.

A network of specialist

advisers

at the local level who provide support and information for leaders in their area.
Flexibility - we know that moving section can be challenging for some young members, so we are flexible about the upper age range of each section, up to a member's 26th birthday, so girls can access the areas of the programme most suitable for them. And move up when they feel ready.
Support for disabled adults
We are also committed to removing barriers to adult members volunteering with us.
For more information about the support offered to girls and volunteers in your local area, please contact your local commissioner.
What do we mean by disabilities and long-term conditions?
Disabilities and long-term conditions can include (but are not limited to) mental health problems, physical impairments, sensory impairments, learning disabilities or long-standing medical conditions.
Examples might include:
Diabetes
Autism and neurodiversity
Anxiety
Hearing impairment
Chronic pain
Asthma
Cerebral Palsy
Visual impairment
We are for all girls
Lindy
Mum of Tabitha
'My daughter Tabitha, who has Down's syndrome, took part in every aspect of the camp and absolutely loved it. The beaming, confident girl that came home on Sunday afternoon was a joy to behold.'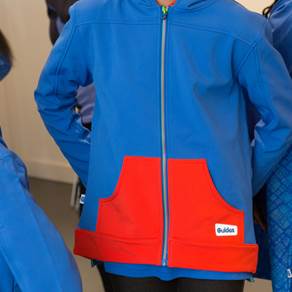 Nicola
Former Guide
'I loved Guides so much because I wasn't singled out for being different, like I was at school '
Jo
Mum of Nancy
'My daughter Nancy, who has Asperger's syndrome, has been a Rainbow for over a year and she loves it, especially as many special schools and autism youth groups are boy-dominated.'
Register your daughter
Register your daughter to join Girlguiding and find out about units in your area.