Strictly stars kick-off fundraiser with BBC Children in Need
11 November 2021
Girlguiding teams up with BBC Children in Need to add a 'Strictly' twist to their fundraising to raise vital money to help empower and change the lives of girls and young people post pandemic
Professional dancers Dianne Buswell and Karen Hauer of BBC Strictly Come Dancing join previous contestant and former Girlguiding member Saffron Barker to surprise Rainbows, Brownies and Guides in the Brentford District
In the lead up to BBC Children in Need's appeal night on Friday 19 November, professional dancers and stars of BBC Strictly Come Dancing, Dianne Buswell and Karen Hauer were joined by previous contestant, Saffron Barker to surprise over 40 excited Rainbows, Brownies and Guides in Girlguiding's Brentford District on Wednesday 10 November.
Dianne, Karen and Saffron were able to spend time with the Girlguiding members and had the chance to 'judge' the Strictly-inspired fundraising activities. The visit celebrated the Strictly-inspired fundraising efforts of the 320,000 Rainbows, Brownies, Guides, Rangers and Girlguiding volunteers to get behind BBC Children in Need's 'Get Your Strictly On' fundraiser.
All money raised through the partnership between BBC Children in Need and Girlguiding will be split equally between the two organisations and will go on to make a difference to young lives across the UK. 50% of the total funds raised will support BBC Children in Need's projects and 25% will support Girlguiding's national projects. The final 25% of funds raised by this appeal will support local Girlguiding.
Girlguiding members up and down the country are being encouraged to add a Strictly-inspired twist to their fundraising individually, with their families or as a unit. Whether completing a danceathon, bake sale with ballroom themed cakes, upcycling items to sell and raise money just like BBC Strictly Come Dancing's upcycled costumes, or focusing on achieving a perfect 10 score by running, walking or skipping whether for 10 minutes or 10 miles.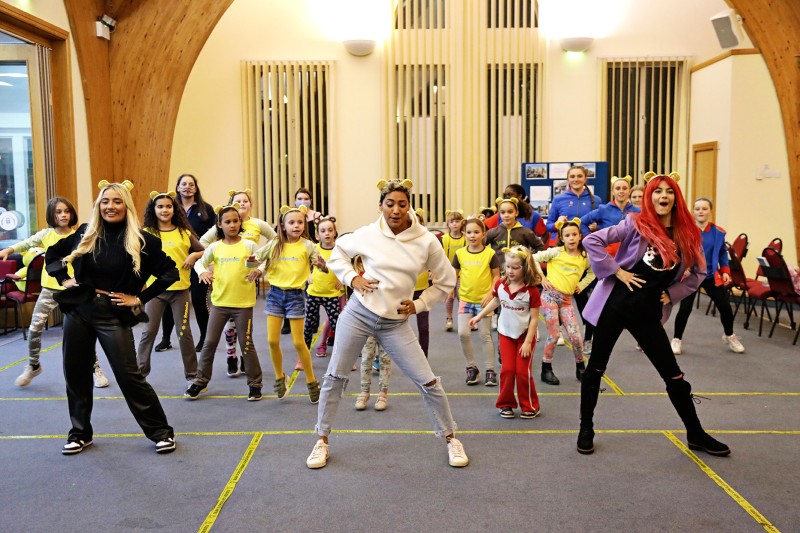 Dianne Buswell, BBC Strictly Come Dancing professional dancer said: "I had such a great time with the girls today and I was so impressed with how creatively the unit had added a 'Strictly' twist to their fundraiser! I was able to join in with some ace glitterball biscuit decorating and some brilliant dance moves for their danceathon – it's a ten from me, for sure! I'm delighted to be able to support charities, like BBC Children in Need and Girlguiding, that are making such a difference to young lives."
Karen Hauer, BBC Strictly Come Dancing professional dancer said: "Wow – what a fantastic group of girls! It was so much fun to be able to celebrate and join in with the 'Strictly' inspired fundraising activities. It was a joy to see the Rainbows, Brownies and Guides giving 110% effort to raise money to benefit other children and young people across the country."
Saffron Barker, previous Strictly Come Dancing contestant and former Brownie said: "As a former Brownie myself, it was wonderful to be able to visit a unit again and join in with their fundraising efforts ahead of the BBC Children in Need appeal. I love how this year the girls are adding a 'Strictly' twist to their fundraising and it was so fun being reunited with Dianne and Karen to help them celebrate. I know first-hand how important Girlguiding units are and what a positive impact they can have and so it is a pleasure to be able to support Girlguiding and BBC Children in Need."
Brownies Manu and Sia had a great time meeting the Strictly Come Dancing stars and taking part in the activities during the visit yesterday evening.
Manu, aged 9, said: "I had an amazing time learning dance moves and decorating Strictly Come Dancing Glitter Ball cookies for BBC Children in Need and Girlguiding. Everyone should get involved and raise some money!"
Sia, aged 7, said: "I had such a fun time – my favourite part was decorating the cookies and meeting the Strictly Come Dancing stars! I love coming to Brownies to make new friends and try different activities."
Following the impact of the pandemic on Girlguiding, the vital funds will enable it to reach more girls and ensure its dedicated 80,000 volunteers can continue to support girls' and young women's wellbeing by providing a space where they can be themselves, have fun, make brilliant friendships, build confidence, and gain valuable life skills.
For BBC Children in Need money raised will help to support local charities and projects in communities across the UK that are helping children and young people facing a range of disadvantages such as living in poverty, being disabled or ill, or experiencing distress, neglect or trauma.
To mark the challenge, Girlguiding has launched a special BBC Children in Need 2021 Pudsey badge which will join one of its 100s of badges, as well as new Strictly-inspired hair scrunchies featuring Pudsey.