Splash tips: Why go paddling?
Kerri, our Paddlesport Specialist explains, why paddle sports are perfect for anyone with a taste for the outdoors
Splash tips: Why go paddling?
Why not?! It's perfect for anyone with a taste for the outdoors, and is for all ages and abilities.
Paddling brings people together; it'll quench your thirst for adventure. It's also an exciting and diverse sport you can enjoy with friends and family. You can turn it into a whole day out - take a picnic!
You can access places, and see sights you never could on foot. It helps you relax; let the stresses float away with every paddle stroke.
And of course, it's a great upper body aerobic workout!
Do we really need any more reasons to go paddling?!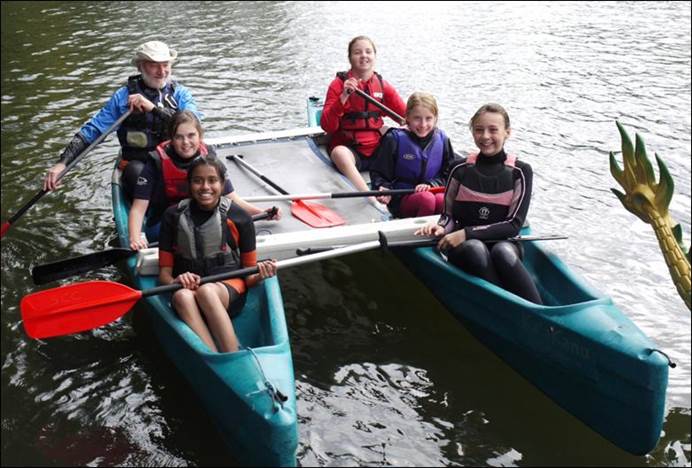 You probably have some questions before you dive in (or stay firmly in the boat) . . .
Don't worry, we've put together a list of everything you need to know, covering your wheres hows and whats.
Where can we go paddling?
There are plenty of places to go paddling, and a lot of organisations that are there to help.
You could find a club, centre or activity provider through British Canoeing, Canoe Wales, Canoe Scotland or Canoe Northern Ireland.
You can find these by contacting the county boating or outdoor activities advisor for your area. See your county's website for contact details.
Canoe England's website lists the Area Representatives are the primary source of information to find out what is happening in your area.
We come every year to Paxmeade Water Fun Day. We won the cardboard canoe competition in our first year!
What are my next steps?
Why not do a site visit?
It's a good idea to find out what site facilities are available to you – are there changing facilities and showers, a kitchen, car parking on site? These are all invaluable on the day.
It's also worth checking if refreshments are available. It's a good idea to take your own; having a warm drink and snack after a paddling session helps the girls to refresh and wind down.
Risk assessment
You'll need to complete Information and consent forms with emergency contacts.
You'll also need to complete a risk assessment for the activity – ask the venue for their risk assessment, and complete it with elements of the activity you are responsible for.
What kind of session do I want?
It's worth thinking about the structure of the session. You should discuss what the girls want out of the sessions with them, and then endeavour to arrange this with your activity provider in advance.
The following options could be available:
Leaders can often do a 'Have a Go' trial prior to taking their girls out on the water to gain confidence and better understanding of the activity.


What should we wear for paddlesport?
It's important to think about weather and water temperature when instructing the girls on what to wear for paddlesport. Ask the activity provider for advice, and ensure that clothes are comfortable and allow movement. Some suggestions are as follows:
Bathers
Wetsuits are not always needed (check with your activity provider)
In chilly weather - Joggers with long sleeve tops and/or waterproof
In warmer weather - Shorts with t- shirt
Suitable closed toe shoes that stay on when swimming – not wellies, crocs, flip flops
Baseball caps are great for all weathers (rain or sun)
For glasses and sunglasses use a special cord or strap to keep them safe
Remember a towel.
Wear correctly fitted buoyancy aids, and helmets if needed for some activities.
Also make sure everyone brings a change of clothes (including footwear) to go home in, and a warm jumper/coat.
As a guide, I went on a kayaking trip. Many of us didn't bring a change of clothes. The coach driver refused to take us home and drove off!
On the day:
1. How should I supervise my group?
Be aware of ratios – the lead Coach should ensure the correct qualification levels are right for the water classification.
Make sure you cover Girlguiding ratios as a Leadership Team
2. What should I communicate with the coach?
Make the coach aware of any health needs for the group. Medications can go on the water in dry containers if needed. Most coaches will have up to date First Aid training.
Participants should listen to the Coach. If they can't hear or they don't understand, say so – everyone will get more from the session.
Take a first aid kit and check the first aid provision at the site.
3. What can I expect from the session?
Warm up and capsize drill should be covered at the start of the session so participants know what to do if they do fall in.
There are more stable boats available to try out, so consider giving them a go, such as katakanus and bell boats. Some paddlers can feel 'tippy' in a kayak for the first time. Larger boats can be more stable for younger uneasy starters. You can still have just as much fun.
Get involved! Girls and young women are encouraged to try a go if they see their Leader eager to join in.
Coaches can be really resourceful and aim to help all willing participants on the water regardless of ability.
Coaches will have many fun ideas to try, and many games that you play on land can be adapted to the water – for example: tag and polo are popular. Head, shoulders, knees and toes while standing in a kayak raft is great fun. Try jumping when you get to 'toes'.
Why not make it special – have a Promise Ceremony afloat.
If you have any specific queries or concerns, contact your County Boating Advisor, Outdoor Activities Adviser or paddlesport provider.
Remember: this is a Watersport; you may get wet!