Programme posters and activities
Our posters and activities will help you explain the new programme to your unit
Our new programme is for #EveryGirl
So we want each young member to understand the fantastic activities, resources and opportunities in store for her. To help everyone in your unit get thinking about the new programme we've created some special resources including posters and activities. Download them all here to get started.
Programme overview posters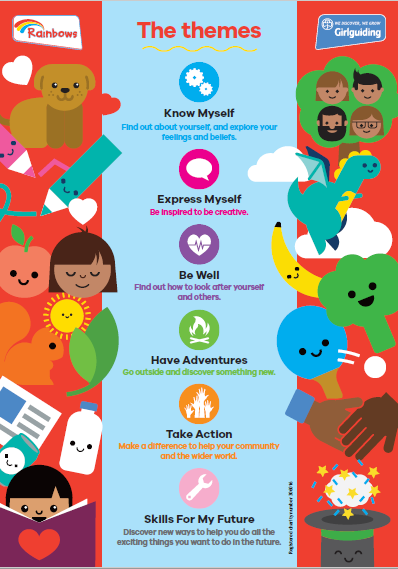 You told us it would be useful to have different posters for Rainbows, Brownies, Guides and Rangers. So we've created three new posters for each section, to help you explain the new programme to your unit. They include:
An overview of all the badges for each section divided by theme
An overview of each of the programme themes
An overview of what girls need to do to achieve a Theme award and Gold award
Download and print
Get active
To help you explain the different programme elements to your unit, we've developed two new activities that allow girls to get to grips with everything in a fun, informative way.
One is for Rainbows and Brownies and the other is for Guides and Rangers. You'll notice that they're speaking directly to girls. This is to encourage them to take more of a lead in their unit meetings and what they do in guiding as a whole. All the new programme activities were created with this in mind.
Why not try these out with your unit as you explore the new programme?
Download and print
Celebrate with our #EveryGirl poster and dice
To get girls excited about what's coming up, try our poster celebrating and introducing the new programme. The poster includes a net of a "theme dice" that can be cut out and stuck together to form a 3D dice. You'll see that each side of the dice has a theme name and lots of words connected to that theme. So why not throw the dice and get thinking about what these theme names mean to you and your girls?
Here you'll find a number of versions of the poster (colour and black and white) and a large net of the dice. These give you options if you want to have a colouring session in your unit and stick together a big dice and poster, or just print off a colour version of the poster and put it up.
Download and print
Give girls an amazing guiding experience