The DePuy Synthes recycling challenge
Can you invent something amazing just using the items in your recycling? Our friends at DePuy Synthes gave it a try
We've all had to adapt to new routines, ways of working, entertaining children over the last few months.
Many of you have used the lockdown period to learn new skills or developing existing skills. We challenged our friends at DePuy Synthes to invent something using only the items they had in their recycling bin.
Emma, Paige and Caroline, part of the DePuy Synthes took up the challenge - here's what they did. do their inventions inspire you to create one of your own?
What problem is your invention trying to solve?
Caroline: My invention is designed to look after my seeds and vegetables once I'm not at home all the time, so it takes care of some of the tasks I do throughout the day to keep them safe and healthy.
Paige: The problem I wanted to solve was boredom in quarantine.
Emma: How to safely meet friends and family during social distancing.
How did you build it?
Caroline: I made a list of everything I do to look after my plants including watering the seeds, making sure they have enough sun and protecting them from birds and other animals in my neighbourhood.
I found lots in my recycling to use. I had an egg box which could house lots of seeds and yellow cardboard was exactly what I needed to attract the bees.
I used clear plastic to shelter the plants but still let through the sunshine that they need to grow. I arranged the different aspects of my design so I could start putting it all together – I had to do this a few times to make sure the water could reach all my different pots and even had to build an extra rain slide to reach my last pot.
Paige: I found a good size box for my game from the bin. I used scissors to make a hole at one far corner of the box. I then stuck down bottle lids and rolled up toilet rolls with sellotape to make a maze for the little ball to go around.
It was important to test the ball on the maze as I was building it to make sure it would fit around the course. Finally, I drew arrows to show the direction of the route.
Emma: I wanted to find a way to help people be able to see their friends without breaking socially distancing rules.
I wanted a way to hug, give a hi-5 and deliver food whilst staying 2 metres away from people. I invented an outfit and made a miniature prototype.
I cut out arm holes in the side of the box and the top part is worn as a hat. The "hands" are on coils, made from strips of lemonade bottles. The machine has three modes:
The basket on the hat can be loaded with food and then springs out to deliver the food.
both arms spring out on their coils to hug your friend.
one arm springs out to give a hi-5.
The hat is 2 metres all round so that you can make sure you stay well away from everyone.
The brilliant inventions from the DePuy Synthes team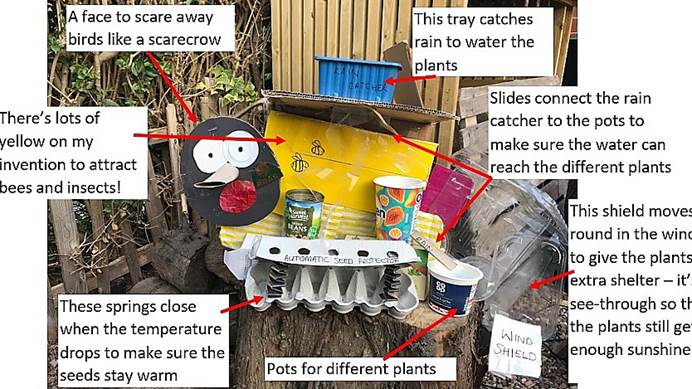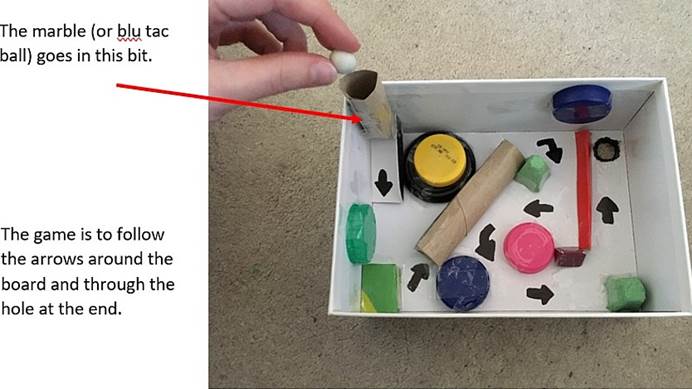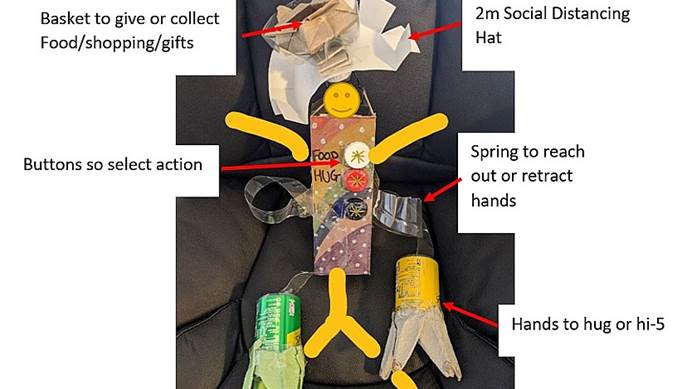 If you made your invention again, how would you improve it?
Caroline: Making it from stronger materials so it would be able to survive the wind and rain.
I would also speak to other gardeners to see what other features they would want for this type of device.
Paige: If I was to make this again, I'd find a bigger box to make a bigger game. I would also put extra holes in around the course as traps for the ball to make it more difficult (and more fun!).
Emma: If I was to make this again I would find another material to make the springs - maybe metal. The plastic is too floppy.
I'd also add some padding to the hat to make it more comfortable.
Give it a try
Now you've seen what Emma, Paige and Caroline have done, can you make your own invention out of recycling materials? We'd love to see your inventions, so share pictures with us on social media, make sure to tag us @Girlguiding.