How to carry out a Queen's Guide virtual residential
Alexia Beale tells us how she was able to continue working toward her award during lockdown
Alexia Beale is currently working on her Queen's Guide award and tells us how she completed her virtual residential.
For the final part of my Queen's Guide award (outdoor challenge, element one), I organised a virtual 18-30 residential with the theme of brilliant birds and wildlife. It's the first virtual residential I've organised and it was amazing!
Finding people to take part
To be able to carry out the virtual residential I had to find at least two other people who were members of Girlguiding and in the 18-30 age group. I emailed all the Inspire groups I knew and advertised on Facebook and in the Surrey East county newsletter. Once someone replied I asked them to advertise in their area. Seven participants attended from all over England, including Leeds, Swindon and Somerset, as well as Surrey East. All of them were extremely friendly, enthusiastic and helpful.
I sent them the plans, giving the times of the various activities and made sure everyone could take part, wherever they lived. They could take part in all the activities without any prior preparation, and everything was free to do.
Our theme
Our theme was the Big Garden Birdwatch (RSPB). I had to plan the virtual residential around my university term dates, so the number of available free weekends was limited. I enjoy nature, so was pleased to spot the date of the UK Birdwatch weekend. I then found various wildlife-related badges that we could work for during the weekend.
We all individually looked for birds for an hour from our gardens or local parks, before meeting up back on Zoom to compare what we had seen. Over the weekend, we earned three different badges: Brilliant Birds RSPB, LaSER; Growing Up Wild, RSPB, Winter; and Growing Up Wild, Birds. It was especially nice for Girlguiding members outside the region to have the chance to earn these badges.
I had planned several short Zoom meetings over the weekend, with activities to complete in between them. We held an evening quiz with a guess the bird-themed movie round; identifying birds by listening to bird song; and creating pieces of artwork. I created a robin out of twigs, bracken and a flower; another person drew a kookaburra; some others did colouring/other drawings. The weekend sped past very quickly and we've all agreed that we should arrange another virtual event soon.
In addition to completing bird themed activities, we shared memories and experiences of Girlguiding, showing badges earned and also different neckers. The virtual residential was a wonderful opportunity and I met a group of nice people.
What next?
We now have a Facebook group and as we're all from different regions, we've been inviting each other to events in our area, including a virtual World Thinking Day event, an International Women's Day event co-run by one of my new GirlGuiding friends and an escape room. We hope to meet in person when we're allowed.
The virtual residential was an excellent way to meet other people in guiding from across the UK, and we've become good friends. It was so much easier to host an online event - there is no way as students/young people, we could have afforded to travel long distances to meet up with others from other counties for the weekend.
I've since given my plans and schedule for my online residential to other members to help them plan a virtual residential too. It's a great way to get together with other members and enjoy guiding events.
Be inspired by other Girlguiding volunteers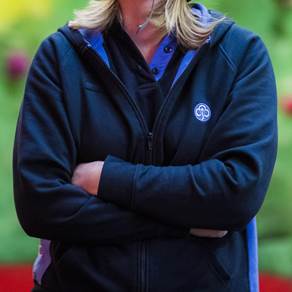 Maxine
Commissioner
'We run a Guiding and Scouting programme during visiting times at a nearby prison for kids with parents in prison. The kids love it. We know that a few have joined local Guiding or Scouting groups after taking part in sessions at the prison.'