Guiding events and visits
Girlguiding's Activity Centres offer so much for members - badge days, camping trips, special events and more
For outdoors, adrenaline-fueled adventure, camping, making friends, earning badges and more, head to any one of our four Girlguiding Activity Centres.
From space exploration to nature conservation, our theme events and badge days offer a range of fun activities for all ages.
For volunteers
Brush up your skills, learn something new, meet fellow volunteers, relax and have fun. Take a look in Adventure Made Easy or contact your local centre to find the right event for you.
Create your own adventure
Planning a small sleepover, a big camping trip or a training activity? Our Activity Centres can help you turn your dream event into reality. We can tailor our activities, accommodation and catering to suit your needs. Get in touch with your preferred centre to discuss your plans.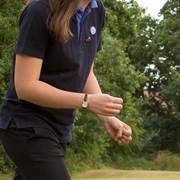 Anne
Leader, 2nd Addington Guides
All the girls managed to get to the top of Blackland Farm's climbing wall, thanks to the excellent instructors. The nightline also prompted loads of giggles as the girls were tickled with fern leaves and sprinkled with water drops.
All of our Activity Centres offer something different