Join us celebrating another fantastic year of Girlguiding
Join the CEO, Chief Guide team and volunteers across the countries and regions celebrating your achievements from the past year.
Let's celebrate together!
Join the CEO, Chief Guide team and volunteers across the counties and regions celebrating your achievements from the past year. With guest appearances from adventurer Anna McNuff and members from across the globe, we'll be sharing what you've got up to in 2021. The call will be held on Wednesday 15 December 8-9pm over Zoom.
Who can attend?
All adult volunteers of Girlguiding are invited to attend. Whether you are an assistant leader, county commissioner, unit leader, or occasional helper you are welcome to join in with the celebrations.
How do I take part?
This event is open to all adult volunteers within Girlguiding and free to attend and you can register for the event here.
If you have any questions, get in touch with us on [email protected].
Our speakers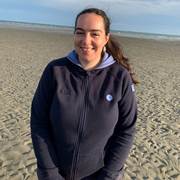 Amy Halls
Brownie leader in Portsmouth
As a Brownie leader and the national specialist adviser for residentials, Amy loves 'Brownie holidays, Guide camps, volunteering at large scale events, and supporting leaders to earn their Going Away With qualification'.
Emma Dixon
Assistant region chief commissioner for Girlguiding North West England
Emma is also a Brownie and Guide leader as well as an advocate. She leads on all things growth and engagement for her region, which means 'I get to shout out about how amazing we are in order to reach more young members and potential volunteers'.
She says: 'Being a member of Girlguiding has positively impacted my life so much, so I'm incredibly passionate about extending the opportunities it offers to as many people as possible!'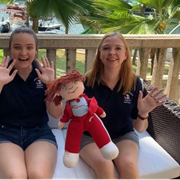 Ella Shaw
Part of British Girlguiding Overseas in Singapore
Ella started her guiding journey when she joined Brownies aged seven, and since then has gone on to organise a camping trip for Guides at Singapore's Girlguiding HQ, organising virtual Christmas celebrations for British Guiding Overseas and helping to run a virtual Rainbows sleepover.
'As I continue along my guiding journey, I am constantly inspired by other volunteers and girls, and look forward to the next exciting opportunity that guiding will bring me,' says Ella.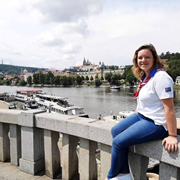 Jenni Maidment
Guide leader and district commissioner in Northwood
'I joined Girlguiding as a Rainbow and have been a part of every section,' says Jenni, who also manages Middlesex North West county's Facebook page, as well as being a Guide leader and district commissioner.
'This year has been special as I was awarded my ten years of service pin and my unit had its 30th Birthday. It's been nice to have things to celebrate this year.'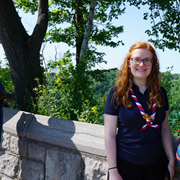 Laura Harryman
International community experience coordinator and Brownie leader
Laura Harryman is the international community experience coordinator for the North East Region and helps members get involved with guiding abroad. She also runs the region's international social media pages and is a Brownie leader in Sheffield county.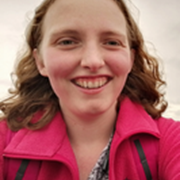 Margaret Duff
Guide leader in Bath
Margaret is a Guide leader, trainer and an inclusion adviser specialising in disability and young carers.
'I believe Girlguiding can provide a space where girls and adults can be treated and cared for as individuals,' says Margaret. 'I am excited to tell people some of the things our inclusion network have been getting up to!'
Do something unforgettable
There's always a way that you can get more involved with Girlguiding. We have events and opportunities for all ages across the UK and around the world.