Using our logo
Understand how to use your local logo to create items that are on-brand
Our logo is an important part of our brand - it brings all parts of Girlguiding together
You can create any localised logo via the online design centre - visit our Make a Logo page to find out more.
We've put together some simple guidance to help you to use our logos correctly and ensure that your resources look great. These logo guidelines are applicable for all local and national logos - and for the logos of every guiding section.
Positioning your logo
We have four versions of the Girlguiding logo shape. Each version has the logo panel pointing in a different direction.
The four versions of our logo can be placed on materials in the following positions: top left, top right, bottom left and bottom right.
The version selected should always be positioned to point towards the centre.
Wherever possible the logo should not be centred, however when unavoidable the top left orientation should always be used.
Clear space and minimum size
Clear space
We maintain the integrity of our logo by never overlapping it with graphics, text, photographs or illustrations. Our logo is always placed over all other elements of design in our publications and other communications.
When used on communications of other organisations, our logo must have a minimum clear space around it (see below). This is also the minimum distance for keeping our logo away from logos of other organisations.
Minimum size
To ensure legibility, the minimum width for reproduction of a localised Girlguiding logo is 35mm.
Please be aware that the material you are printing on may affect the quality and legibility of the logo reproduced. We advise that you get a test sample of your material from your printer or manufacturer to check reproduction quality. If the logo reproduced at minimum size is of poor quality or legibility, we recommend increasing its size.
Rules about our logo
When creating items for your local area, you should always use a localised version of the Girlguiding logo. To ensure that all national and local Girlguiding logos are used correctly and consistently, we ask every member using our logos to follow these rules.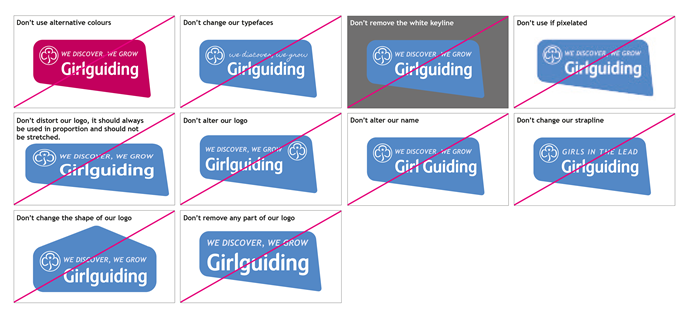 Need more information?
For more detailed information on how to use our brand, download the full Girlguiding identity guidelines
Everything you need to know about promoting guiding