Make your own badges with our new templates
Our new bespoke badge templates are here! Which badge will you make?
We all love badges, especially ones made just for us.
Creating badges for local events, activities, challenges and celebrations has long been a much loved part of guiding. They're an important way to celebrate all of the great things that our members do on a local level. In the past, you might have made these badges with the help of Girlguiding's trading team, or with other parties and had them approved by our branding team.
Having helped many members make their own bespoke badges over the years, we're now pleased to be able to help even further. We're taking the stress out of design and creation through the introduction of our new bespoke badge templates.
Badges for every occasion
We've created templates for the most popular bespoke badge topics, from camping trips to talent shows and personalised birthday badges. With special designs for each section and a special 'Thank you from your local commissioner' badge, these templates take the stress out of badge creation. They also mean that you'll be supporting Girlguiding with your order, keeping as many much needed funds in guiding as possible.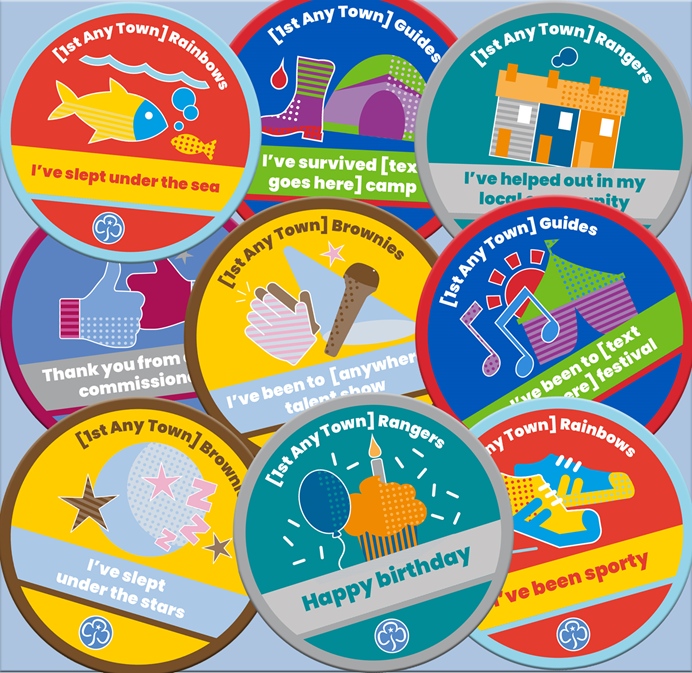 7 reasons to try our badge templates
You don't need to worry about having a design made, all you need to do is select your template and let us know what personalisation you need.
All our templates are branding approved so once you've selected your favourite you're good to go.
We do all of the admin work so you don't have to; once you let us know the design and personalisation we'll do all of the leg work in getting it through the production process meaning you don't have to worry about chasing suppliers.
We work with set pricing and timeframes so they'll be no nasty surprises about increased costs or longer lead times.
It's all in the quality - all of your bespoke badges will be made to the same high quality that you have come to know and expect from Girlguiding badges, because we know every badge matters.
You can be safe in the knowledge that we're using our trusted producers, which means thorough ethical and environmental testing.
100% of profits stays within Girlguiding.
Keeping it within Girlguiding
When you order your bespoke badges through us, not only do you know that you're guaranteed the very best service and quality, you also know that your continuing to support Girlguiding. Now more than ever, your decision to ensure that 100% of profits stay within in Girlguiding makes a difference. Rather than diverting money to external companies, your purchase will ensure that we're able to continue delivering life changing opportunities to girls up and down the nation.
Make a badge with our templates
Take a look at our templates and start your journey to a bespoke badge now!
Make a badge