Changes on our website: helping you find policy you need
We've been working hard to make it easier for you to find the right policies and procedures
Our volunteering policies – and the procedures that go with them – are vital for keeping everyone in guiding safe.
We review and update them to keep them useful and relevant. And they cover everything from adventurous activities to whistleblowing.
You might have spotted some recent changes to how these policies look on our site. Our volunteer policy manager, Sally, and our digital teams have been working together to make these pages easier to find and use.
What changes will I see?
Straightaway you'll notice a new A-Z list of all our policies and the procedures that go with them, with a short description of each one.
I hope that having an A-Z list of policies with brief descriptions will make it easier for volunteers to spot the policy they're looking for. – Sally
Each policy now has easy-to-spot sections on the right-hand side of each page that highlight the forms and resources you'll need to follow the policy. Or list other policies on related topics that you might want to read. Plus, each policy has a clear date showing when it was last updated, so you can keep up with the changes.
And we made some behind-the-scenes changes that you won't be able to see but should make all the difference to your experience. Most of the work we've done has been to improve the search on our site.
We did a lot of research into the words you put into Google, and into our site search, when you're trying to find policy information. And we used this to add keywords and more detailed descriptions to our pages. This helps the search do a better job of finding what you're looking for.
We've also adjusted some settings so that policies are prioritised in search results. So now if you search 'safeguarding', 'finance' or 'subscriptions' – the policy will be the first thing on the list of results.
The digital teams spent a huge amount of time looking at how volunteers used the website to search for policies and procedures. It was really interesting to see how many different words were used whilst searching for this information! – Sally
Why did we do this?
The teams who worked on this had all heard feedback from our members about how hard it can be to find the right policy on our site. Making it hard to know what the right thing to do is. And that this all adds to the amount of work you spend on unit admin. So, we made some changes so you can feel confident that you know what you need to do.
We ran some testing over Zoom, where we spoke to members specifically about using the policy pages. From this, we saw how important the site search was, and spotted where it wasn't really helping you out. We got feedback on some changes to page layouts and learnt what information you'd find useful to have alongside the policies and procedures.
Even if this work isn't immediately noticeable on the site, it's all there behind the scenes working away to make things easier for you. And we're not done yet!
We know there are more areas that cause you frustration, or just aren't quite as simple as they should be. We're making plans for how we can tackle these problems across our website in the future. And we promise we'll keep you updated along the way.
Be inspired by other Girlguiding volunteers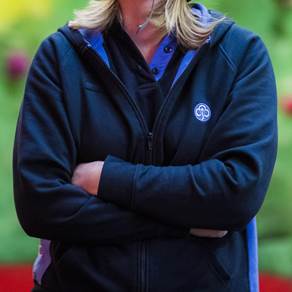 Maxine
Commissioner
'We run a Guiding and Scouting programme during visiting times at a nearby prison for kids with parents in prison. The kids love it. We know that a few have joined local Guiding or Scouting groups after taking part in sessions at the prison.'