Introducing our Take Action theme
Explore Take Action, one of our six new programme themes that's designed to make a difference
Programme team
09 January 2019
Together we can change the world
But sometimes it can be difficult to know where to begin. So, to help girls get started, our Take Action theme is all about building the skills to make a positive difference. Whether it's to the people you know, to your community or to the wider world.
Everything in our new programme - all the badges, awards, unit meeting activities and skills builders - fit into one of six themes. Today we're looking at everything in our Take Action theme. It includes things like campaigning, volunteering, fundraising, reducing waste and speaking out. So are you ready to change the world?
Activities, awards and badges that make a difference
There are loads of Take Action activities for girls to try together with their unit - from the Influence and Make change skills builders to unit meeting activities that motivate.
Girls and young women can take action in their own time too by doing interest badges at home. They might like to try Helper (Rainbows), Speaking Out (Brownies), Craftivism (Guides) or Volunteering (Rangers).
And don't forget that those who want to take the theme further can achieve their section theme award by completing:
One interest badge
One skills builder stage
A certain number of hours of unit meeting activities from the Take Action theme: 3 hours for Rainbows, 4 hours for Brownies and 5 hours for Guides and Rangers
Take a look at all the Take Action skills builders, awards and interest badges in our badge finder.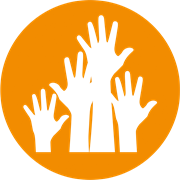 Look out for the Take Action icon
The Take Action icon is a group of raised hands in an orange circle.
All our Take Action awards, badges and unit meeting activities can be recognised by their orange colour.
Quiz time!
Put your Take Action knowledge to the test with our just-for-fun (and slightly silly) quiz.
How you've been taking action
Girls and their units across the UK have already been getting started with activities in our Take Action theme. From hair-raising fundraising to campaigning for local change, here's what you've been getting up to.
Seven-year-old Brownie Chloe had 9 inches cut off her hair and she donated it to Little Princess Trust to make wigs to help children undergoing cancer treatment. She also raised £380 for the charity. Chloe earned her Charities interest badge which was her first Brownie badge. - Pamela, Assistant Leader at 7th Barrhead Brownies
1st Bradley Stoke Rainbows have just completed the Make Change stage 1 skills builder. We visited our local Foodbank and helped to sort donations and put together packs of food. – Leader Catherine
We did stage 2 of Influence skills builder with 1st Little Paxton Brownies. The girls felt strongly about having a safe crossing to our nearby mini-supermarket (no pedestrian crossing on a 40mph road) and a reduction in litter in the village. They wrote letters to the road safety partnership, parish council and to the Co-op and they designed posters. The parish council have now invited some of the Brownies to attend their next meeting and explain to the councillors what they would like to happen! - Jenni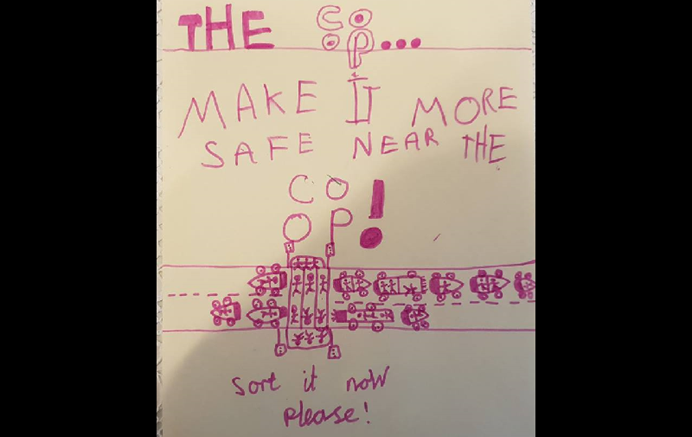 2nd Laindon Guides have been getting stuck in to the Make change stage 3 skills builder. They've had interesting conversations about how to make changes in the local area, as well as how to make campaigns successful for a cause of their choice. It's been really lovely to see them all working together and having topical debates about how to make our society stronger and more united! - Beckie, Leader of 2nd Laindon Guides and county advisor for Essex South East
This term 32nd Rochdale Guides have done the Take Action theme. We split our group into 10-11 year olds and 12-13 year olds. The younger ones did Make change stage 4 and the older did stage 5. Each group developed a campaign for a cause of their choice, made banners and badges and then we held a fundraising night. They raised £282.64 in total for various charities. The older groups put together hampers for Rochdale Foodbank and packs for the Red Box Project. It's been a huge success and very much girl-led! We've loved it! – Leanne, Leader

1st Hayton Guides have completed their Make change stage 4 skills builder and Campaigning interest badge at home this term! Each patrol had a different theme they were interested in and was great to see the girls get so passionate about something they think is important to them! - Leader Chloe
We're promoting girls' voices