13 frightfully fun things to try this autumn
Our volunteers make some spooky suggestions for autumn activities
Helen, Girlguiding digital team
08 October 2018
As the days are getting colder and darker, wrap up warm and embrace the autumn with these seasonal suggestions.
Take inspiration from celebrations like Halloween, All Saints Day and Bonfire Night when looking for activities in the coming, colder, months.
We asked a group of our leaders and volunteers for their favourite ways to add some seasonal (pumpkin) spice to their units. Check out their suggestions in our list of 13 frightfully fun activity ideas.
And don't forget - when it comes to unit meetings you can mix these activities and ideas of your own with the new programme to create a fun and varied term plan.
1. Go on a bat walk
Whether you think they're cute or creepy, now's a great time to see bats before they go into hibernation. Guide leader Tegan took her unit bat-spotting with The Bat Conservation Trust
We took our Guides along to Heaton Park and had a fantastic volunteer speaker who told us all about the different bats in the UK and showed us pictures of bats worldwide. We got to see a bat in the volunteer's hands (one that can't fly due to a cat attack so now has to live with humans) and the girls really enjoyed the opportunity to see one close up. - Tegan, 1st Didsbury Guides
2. No tricks, just treats
Encourage your Guides to take inspiration from all the sweet treats available at this time of year. Outside of unit meetings they can add a seasonal twist to the Confectionery interest badge.
3. Carving out fun
Pumpkin carving is a classic autumnal activity but can be tricky for younger girls. We loved leader Alice's idea for 'pumpkin not-carving':
We got mini pumpkins and made faces with upholstery pins just pushed in.
Or try decorating your pumpkins with paper, paint and glitter.
4. Campfire tales
Stories round the campfire don't have to be scary. Girls in Rainbows can explore different ways to tell tales in the Story Trail Unit meeting activity, part of Pack 2.
5.Sweet and spooky
Guide leader Emma loves making halloween-themed cake pops. Girls can get creative making tiny pumpkins and adding scary faces to their tasty cakes.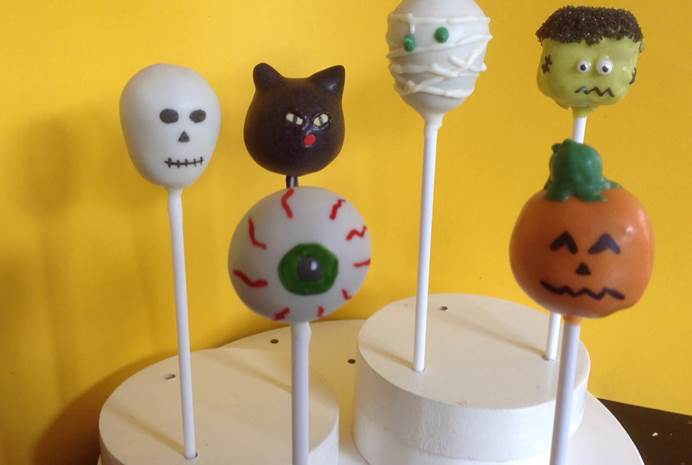 6. Gore galore
Leader Susie suggested getting your unit thinking about First Aid by spending a night making (and treating!) fake wounds. Make harmless fake cuts using tissue paper, food colouring and vaseline. Then check out the First Aid skills builder to learn how to take care of them!
Remember to check first for allergies before putting anything on girls' skin.
7. Dress it up
Explore everything that's excellent about autumn with a fancy-dress party. Susie also recommends planning a unit party packed with traditional games like apple bobbing and the doughnut on string game.
8. Face painting fun
Your imagination can run wild with face paints as you have loads of fun turning each other into scary monsters, smiling skulls or any other creepy creature you can dream up! Our face painting activity contains all the hints and tips you need to give this a try.
9. Which witch?
For older girls in Guides and Rangers, it can be a great time to learn about the history of Halloween and the true stories behind historical witch hunts.
Liz Morgan suggests that girls "look at historical accusations of witchcraft; who was accused of it, was there anything in it or was it just a way of attacking particular women - and then compare that to the way that women are portrayed in the media in the present day."
Girls in Rangers might be interested in learning about the pagan festival that inspired our modern Halloween, Samhain.
10. Light up the sky
Firework displays can be truly spectacular and make a great fun night out - as long as you wrap up warm. Look out for firework nights organised in your local area or see our safety tips for planning your own.
11. Create creatures
Get creepy and crafty like the 1st Hampton Rainbows. They made ghouls out of household recycling. With a little bit of creativity and some googly eyes, egg boxes became bats, milks cartons turned into ghosts and toilet rolls were transformed into mummies!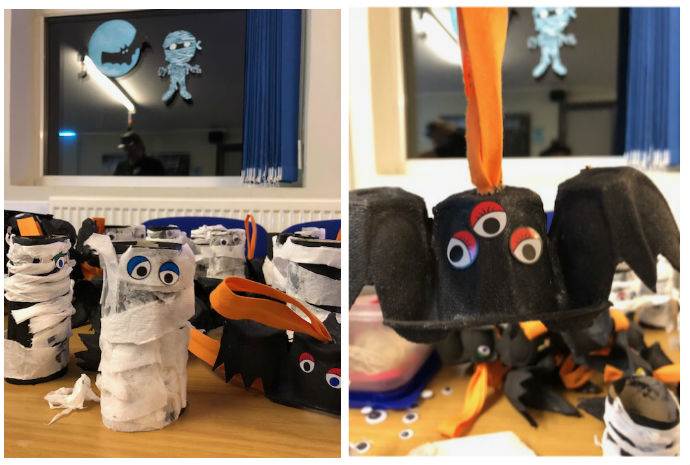 12. In the dark
Give your unit meeting a twist by doing it all in the dark! One leader tried turning off the lights and giving Rainbows torches to light their way. They had fun searching their venue for owls, bats and cats with glow in the dark eyes.
13. Skull skills
Introduce girls to the Mexican festival Dia de los Muertos, or Day of the Dead, which takes place in October. This colourful festival is known for its sweet decorated sugar skulls. In Kat's unit a favourite activity for this time of year is decorating skulls made from air drying clay.