What your annual subscription pays for
How the membership fee you pay supports our work with girls and young women
Every year we ask every member, both volunteers and girls, to pay a subscription – our name for our membership fee.
Without subscriptions, we couldn't support our incredible volunteers to change girls' lives and inspire them to be their best. So thank you for continuing to support and believe in our work.
The final amount you pay for subs goes towards running costs at every level of guiding. This means that Girlguiding HQ amount of the subscription is only one part. The rest goes to your district, division, county or country and region.
Talk to your commissioner for information about how subs help local guiding in your area.
In 2021 the Girlguiding HQ subscription will be £17.70. This is a small increase on last year's Girlguiding HQ subscription. This is to help us keep guiding going and sustain the organisation for the future.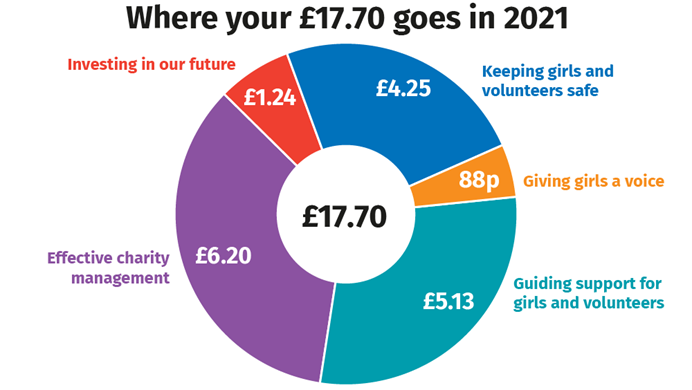 The Girlguiding HQ £17.70 will go towards:
Girlguiding support for girls and volunteers
Further development of the core programme to keep it fresh and modern
Adventure – fantastic opportunities for girls
Youth awards
Young leader opportunities and programme development
Events led by HQ, eg European Jamboree
Learning and development opportunities such as e-learning and training.
Technology including continuous development of GO (our membership database) and new e-learning platforms
Support for all our amazing commissioners
Developing and supporting our network of trainers
Keeping girls and volunteers safe
Safeguarding: A Safe Space training including e-learnings, virtual and face-to-face training
Advice on keeping girls and adults safe
Help with data protection
Insurance and support with making claims
Legal advice
Disclosure checks, recruitment and vetting
Support to make or deal with complaints
Consistent and clear policies and procedures to reduce the admin burden on all our volunteers
Giving girls a voice
Girl-led campaigns such as Future Girl
Effective charity management
Developing and delivering our strategy to lessen the burden on our volunteers and work closer with countries and regions
Management of our properties including our activity centres, so volunteers and girls can attend events and go camping
Our Board of trustees and other committees to make sure we use our resources in the best possible way to deliver our mission and vision
Investing in our future
Income generation including fundraising
But subs are only half the story
We work hard to raise money from other sources so we can give girls an even better experience while keeping the subs and the annual subscription low. Our money also comes from events, donations and legacies, grants, our shops, our Activity Centres, and our investments.
Meet some of the girls in guiding