The Queen's Platinum Jubilee
It's time to celebrate!
2022 is the Queen's Platinum Jubilee.
It's the Queen's 70th year on the throne. As well as an extra bank holiday and long weekend from 2 June, there are lots of ways to get involved in the celebrations and mark this historic anniversary.  
Why celebrate?
Her Majesty The Queen is Girlguiding's patron. The Queen has had a long-standing personal history with guiding since joining in 1937 at 11 years old alongside her sister, Princess Margaret. The Queen experienced all the fun of guiding and became our patron in 1952 – the same year she took the throne.  
Girlguiding has celebrated every one of the Queen's Jubilees. So now's the time to join in for this extra special one, the Queen's Platinum Jubilee. 
What's going on?
There will be lots of ways to get involved in Jubilee celebrations in 2022 in a way that works for you.
Get involved
Beacons 
As the Queen is our patron, Girlguiding has been asked to take part in a special beacon lighting ceremony over the Jubilee weekend. At least 70 beacons will be lit by Girlguiding members across the UK and beyond to mark each year the Queen has been on the throne. We'll be lighting our beacons at 9.50pm on Thursday 2nd June.
This is going to be a brilliant celebration for all our members.  Take a look at the map to find a beacon ceremony near you.
Beacons at the Activity Centres
This is going to be a brilliant celebration for all our members. We're delighted that each of our nationally owned activity centres will be lighting a beacon at a special evening event for guiding members and the local community. This unique occasion will not only be a chance to celebrate the Queen's Platinum Jubilee but also shine a light on our wonderful guiding community. You can find out more about these events on the Girlguiding Activity Centres' beacon lighting event webpage.
Virtual beacons
If you can't make it to any of our Jubilee Beacon lighting events, why not join in with our virtual version?
We've created a virtual beacon that we'll be 'lighting' on our Girlguiding Facebook, Twitter and Instagram pages at 9.50pm on Thursday 2 June. We'll be sharing the virtual beacon across our social media channels at the same time as the real-life beacons are being lit at our Activity Centres and locations across the UK. Exciting!
You can share the virtual beacon on your own social media channels, too - use the links below to download the virtual beacon for Facebook, Instagram, Instagram Stories or Twitter, then save it to your phone's camera roll or to your computer.
At 9.50pm on Thursday 2 June, upload the virtual beacon to your chosen social media platform and join us in creating a wave of Jubilee light across the internet! Don't forget to tag @girlguiding and use the #JubileeBeacons hashtag, too.
To download the virtual beacons onto your iPhone - Tap the download link and choose 'continue to website'. Select the version you want to download, then when the preview opens, tap the three dots in the top right and select 'download'. When the pop-up window appears, select 'download'. You'll see an arrow appear in your browser's address bar – tap this and select 'downloads'. There you'll be able to open the file, then tap the square arrow button in the bottom left. Choose 'Save Video' from the list and the virtual beacon will save to your camera roll.
To download the virtual beacons onto your Android - Tap the download link and choose 'continue to website'. Select the version you want to download, then when the preview opens, tap the three dots in the top right and select 'download'. The file will save to your Photos.
The Queen's Green Canopy
Plant a tree for the Jubilee! The Queen's Green Canopy is a unique tree planting initiative to encourage communities around the UK to support the environment and plant a tree in celebration of the Jubilee.  
We know the environment is something our young members, and volunteers, care deeply about. We'll be planting a new group of trees and each one of our outdoor activity centres. Find out more about how to get involved, including a downloadable plan and how to get your hands on a free tree! 
You won't be able to access our interactive map of planted trees now until September. This is because planting season is October until March, and the Queen's Green Canopy are keen to give every tree planted the best chance of survival. The map opens again in October 2022 until March 2023. We will be reminding you in September to get planting again!
Activities for units
Celebrate the Queen's Platinum Jubilee with your unit using these fun activity sheets. There's one for each section. These can be used in the lead up to the Jubilee weekend and girls can also do them with their families at home. These new activities are called toppers, check out our blog explaining all about them!
We created toppers for the Queen's Platinum Jubilee to add to all the jam-packed fun that we'll all be having. Get stuck into the crown challenge interactive story to kick off a delicious indoor street party. Or if you're going to a beacon lighting, use the fun song on the Guides topper to get everyone's vocal cords warmed up. Since there'll be so much on, we understand you might not get the chance to meet as a unit. Feel free to send parents the toppers so they can try some Girlguiding fun at home.
Fancy trying an activity from another section's topper, or combining sections for an evening? No problem. As long as you risk assess, you can mix and match the activities for the sections. Toppers aren't part of our core programme, which means they're more flexible. But if you do want to combine some programme activities with your celebrations, check out our list below.
Take Rainbows back in time to the Queen's coronation in A royal engagement from unit meeting activity pack 7. Or have Rainbows and Brownies think of different ways to celebrate as part of Celebrate from Reflect skills builder stage 2. Did you know the Queen was a first glass Guide? Help Guides discover what they are in The two match challenge unit meeting activity from pack 2.
Taking part in the beacon lighting? Refresh your fire safety, building and lighting skills with the following activities:
If you're looking for all of the programme activities that link in with the Jubilee, look under the toppers on our webshop.
All related activities
You can also download the complete list of related programme activities below.
Download spreadsheet
Thank You Day
Sunday 5 June 2022 is Thank You Day, when we'll celebrate and recognise the everyday heroes, those individuals who make our communities great places to live.
When it started last year, the Thank You Day project aimed to bring millions of people together to say a personal thank you to everyone that helped us through the Covid-19 pandemic. The campaign started with just 12 people. It's now supported by hundreds of organisations, charities, celebrities and Girlguiding!
One of the aims of this year's Thank You Day is to host a Big Jubilee Lunch, a street party where everyone's invited. It'll be a celebration for the Queen's Platinum Jubilee, bringing communities together again after so much time apart. For help planning your lunch, check out Playing Out's page.
Check out the Eden Project's webpage for more information about the Big Jubilee Lunch. If you're planning a street party or Big Jubilee Lunch, don't forget to tag us @Girlguiding and use #thankyouday on your social posts. Sign up for your free pack to get started.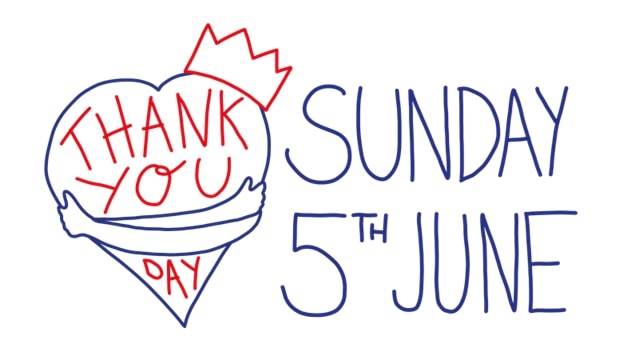 Badges 
To mark the Queen's Platinum Jubilee year, we have three amazing new badges.
We've partnered with the Scouts to create a commemorative woven badge.
The badge has seven sides to represent the seven decades of the Queen's reign, as well as 70 coloured dots in Girlguiding blue and Scouts purple to represent the linked history of our two organisations. The design also features the Queen's official Jubilee emblem, the Girlguiding trefoil and Scouts' fleur de lis.
We've also created a commemorative metal badge. The design includes seven diamonds alongside 63 individual spokes to represent her time on the throne. It also features the colours of our four Girlguiding sections.
And finally, however you celebrate this historic year, our own colourful woven fun badge will help girls capture their Jubilee memories forever.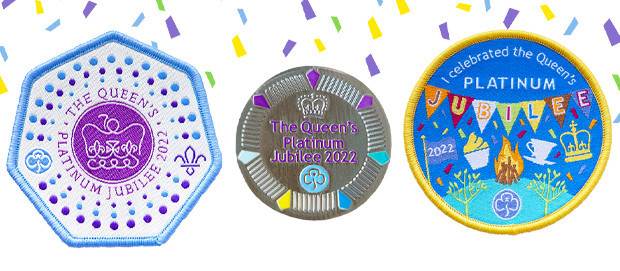 Visit our online shop
Visit our online shop to buy all three of the badges, and download the Platinum Jubilee toppers for free.
Browse now