Becoming a trainer
Become a trainer with Girlguiding and support our fantastic volunteers to deliver great experiences to girls
Support our volunteers to be their best by becoming a trainer
We currently have around 800 trainers working across our organisation. While this may seem a large number, new trainers are always needed to ensure that we can offer regular, high quality training opportunities to all our adult members.
Why become a trainer?
As a trainer, you'll facilitate and deliver learning opportunities that give volunteers the motivation and confidence to provide good guiding for our girls. You'll be a role model for other volunteers and help ensure excellence and consistency across our organisation.
Types of trainers
There are three different trainer roles at Girlguiding, but you can qualify to hold more than one.
Trainer in leading and managing people
Trainer in programme
Trainer in a specific subject (subject matter expert) - for example, A Safe Space
Once you have completed your Trainer qualification, you can then develop your skills further by becoming a residential trainer and a trainer leading a team of trainers.
How much time will I need?
There is no set timescale for the Trainer qualification, but most people will need a period of preparation to gain the knowledge required for each module, and to deliver their trainings. As a minimum, you'll need to:
Conduct three trainings which are observed by a tutor
Complete a knowledge checklist
Record evidence of your progress in a record of completion
Keep and submit a Personal Development Plan
How do I become a tr
ainer?
Fill out a becoming a trainer application form and email it to your country or region office, where it will be checked to ensure you meet the criteria for our Trainer qualification. Volunteers from British Girlguiding Overseas (BGO) should contact the BGO guiding development adviser.
Your country or region office will then arrange for you to:

receive a role visit - an experienced trainer will visit you in your guiding role to make sure you are incorporating the Five Essentials
shadow a trainer and complete the shadowing form.

Once your application has been approved, your chief commissioner will be asked to write a reference confirming your suitability to be a prospective trainer.
Once you become a prospective trainer, you will be assigned a tutor who will support you to complete our Trainer qualification.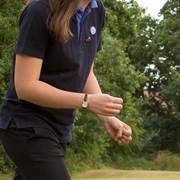 Fay McMullan, Leader and Trainer, Belfast
I was initially really scared and thought I couldn't do it - but I was encouraged and inspired by another Trainer who gave me the confidence to give it a go. You just need the right skills and attitude ... to be able to listen and respond flexibly, and be enthusiastic, engaging and prepared. Finally, it's OK to admit you don't know something, as long as you find out and follow it up.
Apply to become a trainer
To apply, simply download and fill out the application form, then send it to your country or region office, or the BGO guiding development adviser. Contact details can be found within the form.