Take action your own way
Through our Action for Change programme, girls and young women gain the skills to change the things they really care about. Whether that's tackling inequality, keeping their local village hall open or leading campaigns to make transport more accessible or get more women into engineering.
We support them to lead their own social action projects and to take the steps to make a difference to their communities and beyond. They organise community events, start petitions to their head teachers and lead their own national campaigns.
Together, they are the UK's largest girl-led advocacy network.
Action for Change teaches you all the steps you need to take to really change something.

It has allowed me to voice issues that directly affect my peers and I, and connect with others who can further influence my campaign. - Catherine
[Video shows girls working on different project activities]
Katie: I was really excited when I heard about Action for Change. It sounded like a really good initiative and it's something really interesting to be part of. Like a trial pilot for something.
[Screen showing: In 2016, the Action for Change pilot programmes launched in Scotland and London and South East England empowering members to make change to the issues they care about]
Cara: I thought getting involved in Action for Change would be a great way to try and make a bit of a difference.
Hannah: I wanted to meet our guiding members that are as passionate about issues as I was.
Bekki: Action for Change is given me the skills to know where to start with campaigning.
Molly: My Action for Change project I chose to campaign against homophobia and more specifically against conversion therapy or gay cure therapy.
Katie: My Action for Change project focused on girls in STEM subjects so we've tried to encourage girls go into science, technology, engineering and mathematics.
Bekki: My Action for Change project was about encouraging more young women to get involved in sport, especially running because that's the sport that I'm mainly involved in.
Hannah: Five years ago my younger sister was diagnosed with a condition called PoTS that means she can collapse at any minute without warning. I don't feel the priority seat symbol really represents those with invisible illnesses so my Action for Change project aims to change that symbol to be more inclusive.
Cara: So as part of my project I did different things. One of the main things I did was having a clothes swap and I thought that would be a good way for people to think about where their clothes came from and get a new wardrobe and recycle something.
Molly: I got really empowered. I'm really excited. I also wanted everyone else to know that they should make a change as well.
Katie: It's given me the confidence to put my hand up and say look there's an issue here when you're teaching us about all these famous male scientists and you haven't mentioned one women scientist in the whole of this course when they have made equal contributions to the field.
[Screen showing: 55 members attended Inspiration Events in London and Edinburgh
Of these
15 have contacted decision makers like MPs
13 have spoken about or presented their projects at events
11 have worked with a local organisation, school or charity
14 have set up campaign-specific social media accounts or blogs
and 98 articles highlighting Action for Change projects have appeared in the press]
Hannah: I definitely got much better at public speaking, made lots of friends and I know who to ask for if I ever want to make changes in the future.
Cara: My highlight was definitely meeting the other girls and in being part of a project that empowered women.
Hannah: My highlight of Action for Change has definitely been speaking at the Women of the World festival. I got to speak at London South Bank in front of 400 people and that was just so amazing and something I've never done before.
Molly: Action for Change helped me to use my voice by giving me a network of other empowered girls who supported me in my project and also inspired me in their projects.
Hannah: I feel I've only really just started and I really do want to carry on making changes in things I care about.
Cara: In the future I will try and campaign on ethical fashion, I think, because it's so important and I think there's always more to be done.
Katie: Action for Change has definitely given me the confidence to put myself forward more so actually say: look, I'm good at this thing.
Cara: Action for Change has really given me the confidence to just go for things.
[Screen showing: to find out more go to girlguiding.org.uk/actionforchange]
How girls are taking action
Girls and young women share the issues they've tackled as part of Action for Change and why.
Hannah
Working to make our transport more accessible
I am passionate about supporting people with invisible illnesses and disabilities. Many people with invisible illnesses find it hard to access the priority seats without being judged when asking for a seat. I am working with another member to campaign for transport companies to change their priority seat stickers to be more representative.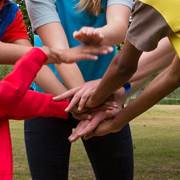 Alice
Campaigning to save village halls
Action for Change has provided me with the skills to help save my local village hall from closure, from the community events I have run to contacting my local MP. I am now campaigning for increased funding for village halls as without funding these halls and centres can't stay open, widening the gap in our communities.