Where does your waste go?
Find out what happens when you throw something away. Then take a tour of your local recycling plant to see for yourself.
Zoe, Digital team
04 April 2019
Every year in the UK, we generate nearly 30 million tonnes of household waste. Waste is dealt with differently depending on where you live, but we're all trying to reduce, reuse, recycle and recover our waste.
Take a tour of the world of waste
Why not go on a tour of your local recycling plant? Lots of facilities have popular public and group tours – take a look at your Local Authority website to find out when your next one is. Some even offer a free minibus service from a local pick-up point. From there, you'll be whisked off for a behind-the-scenes peek at how the waste arrives, is separated, sorted and sent off to be turned into something new.
One Senior Section group visited Milton Keynes Waste Recovery Park, operated by our partner Amey. Amey designs, builds and maintains the country's services and infrastructure. Louise Ousley is the Education Officer at Milton Keynes Waste Recovery Park. She says 'The girls were very interested in how the facility works and the science behind the scenes. They asked questions about the technology, and there was a lot of excitement when we got our hard hats on to see the machinery in action.'
What happens to your waste?
Louise shared the behind the scenes intel on how your waste is recycled or turned into energy. 'We've created and are now operating a state-of-the-art facility to treat 'black sack' waste from local households,' she says. 'It's designed to extract any recycling and turn the remaining waste into energy.'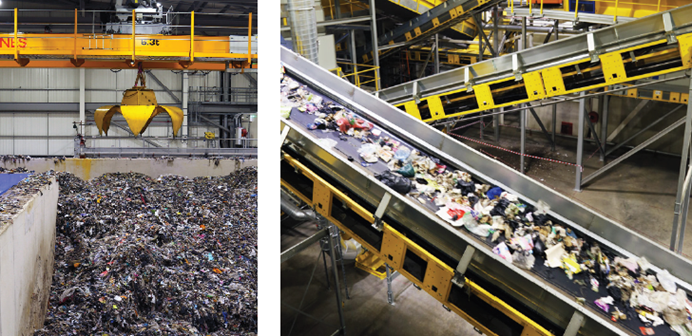 Here's what happens
First, waste goes through a series of conveyor belts and separating machinery, which sorts the rubbish. It picks out recyclable items, like plastic bottles and metal cans that can be reprocessed into new products, such as fleeces and car parts.
Then, food and biodegradable items are extracted. These are processed in an anaerobic digester to generate renewable energy.
Any remaining waste that's not recyclable or compostable is used as a fuel for an advanced thermal treatment plant. This transforms it into a gas, which is combusted to generate high-temperature steam, which creates renewable electricity in a turbine.
As a result of these anaerobic and thermal treatment technologies, the plant exports around 5.8 megawatts of electricity to the National Grid every year – that's enough energy to power around 11,000 homes.
How we work with Amey
We're working with Amey to challenge the misconception that STEM subjects are just for boys. They're co-sponsor of our Innovate skills builder, packed full of exciting experiments and problem solving activities.
Discover more of Girlguiding