Talking shop
We caught up with Mairead McGuirk from Cotswold Outdoor about how to pack the perfect kit for an expedition
Girlguiding
06 November 2017
Mairead McGuirk is Store Manager at Cotswold Outdoor in Chiswick. She's given advice to hundreds of Girlguiding members over the years, most recently giving a kit talk at Girlguiding HQ for a group heading off to the Great Wall of China trek. Here she shares some of that expert advice, as well as telling us about her love of the great outdoors.
How long have you enjoyed the outdoors for?
From a very young age. I have a very outdoorsy family and my Mum was a Scout leader - that's where my love of the outdoors stems from.
What has your most recent adventure been?
I've been exploring the Shropshire hills over the past few months. Gorgeous!
How long have you been working with Girlguiding?
I've been giving kit talks for Girlguiding for five years and have given more than I can possibly count! In expedition season, from September to October, I can be talking to youth and adult outdoor groups, including those from Girlguiding, every other day.
So, you went to visit Girlguiding HQ in July to give a kit talk prior to an expedition to China, can you give a brief overview of what that involved?
I arrived at Girlguiding after lunch with a bag full of kit – I'd been given a copy of the kit list issued to the participants, as well as their itinerary, which meant I could give some really good advice based on that. I've worked at Cotswold Outdoor for eight years, so my advice comes from knowing the kit inside out, as well as my own experiences.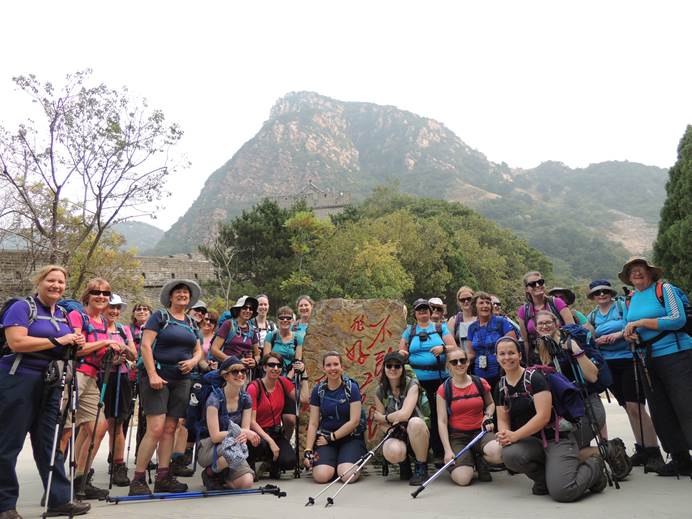 How did you decide which products were the best fit for the expedition?
I base all of my advice on the needs of individual groups - where they're going, what kind of walking or activity they will be doing. But I'm never too specific as the most important thing when deciding what kit to take with you is to choose what fits you as an individual. The products I take with me are just examples.
Emma Broad and Penny Pinn, two of the participants, explained that even though they were well seasoned travellers and had all the kit they needed, they found the kit talk really interesting and learnt a lot, including tips for packing and doubling up on kit.
For anyone who is new to this sort of trip it's very useful to see examples of what is needed and to be able to ask questions from a member of Cotswold staff who are always very knowledgeable - Penny Pinn, Assistant Leader, 4th Horsforth (St. Margaret's) Rainbow unit
How important is it to make sure you have the correct and highest quality kit before any expedition?
It's always important to get the best kit you possibly can. You can scrimp and save on some things, but your boots and your rucksack need to be right or you will be uncomfortable. Everything else can be begged, borrowed or bought from cheaper ranges.
Getting properly fitted and having access to the best advice is key, but don't get new boots especially for the expedition if you already have a good pair – a well-worn, tried and tested pair will help you to avoid blisters. As we all know, unhappy feet make for a miserable experience!
What would you like Girlguiding leaders, participants and parents to know about Cotswold Outdoor?
As a company we don't push people towards buying the most expensive kit or put them under pressure with a hard sell. We're quite happy to have an in-depth conversation in store with someone for an hour without making a sale –we're genuinely passionate about what we do and love talking to like-minded outdoor lovers.
Explore the great outdoors with your girls