So you want to be an engineer?
SGN gas engineer Masha shares her inspiring advice on getting into a career in STEM
So you want to be an engineer? Shockingly I didn't.
Not when I was in primary or even secondary school. And if it wasn't for my guidance counsellor, in my last year of school, suggesting I look into it, I wouldn't be where I am today. That is, working as a Project Manager within Major Projects for SGN.
How it all began
As a young girl, I loved playing with Barbies just as much as my friends but I also enjoyed playing with cars and LEGO. I was fascinated with how the world works, always asking my parents questions like "how does a rainbow appear?" and "what makes aeroplanes fly?'.
After school, I went to study Civil Engineering at the University College Dublin, but I still had my reservations. It wasn't a typical choice for girls. How would I be perceived? Would I be treated differently? Would it hinder my career progression?
I need not have worried. Yes, I still get an occasional surprised look when I tell people what I do, but I let my work do the talking.
So what do I actually do?
SGN is a gas transportation company and I work on construction projects on our steel pipes in the West of Scotland. What I love most about my work is that every project is different, each has its own challenges which feeds the eager problem-solver in me.
My first job at SGN was as a Network Analyst. 4 years later I moved to the Major Projects department where I became a Project Officer and have just recently been promoted to Project Manager.
One of the benefits of my job is the versatility, so if you want an exciting, interesting and certainly different future, ask yourself these questions:
If you discover a problem, do you try and think about the various solutions?
Do your favourite subjects in school involve maths?
Are you naturally inquisitive?
Do you have a good attention to detail?
If the answer is yes, then think about a career in engineering!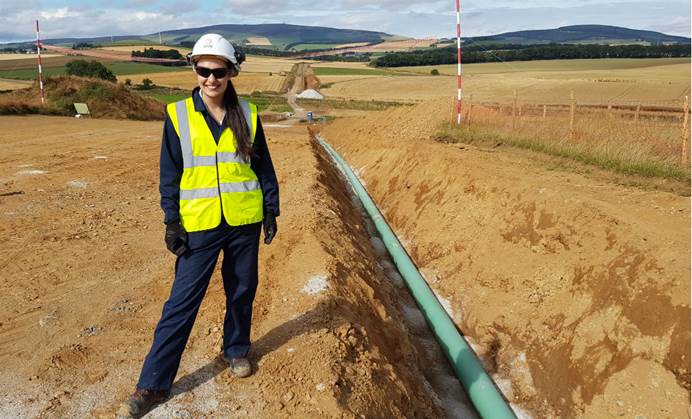 So what's next?
My advice to anyone considering a career in science, technology, engineering or maths to speak to as many people as you can who are working or studying in the area. There are many different ways to get into the field, some of the people I work with started as apprentices, some did diplomas or degrees and some started off on working on construction sites.
My final note is that it's OK to be different, it's OK to feel like you don't quite fit in sometimes, embrace your individuality and trust yourself to make the right decision!
More about volunteering for Girlguiding