Queen's Guides go digital
Queen's Guide award candidates have been busy during lockdown virtually working towards the highest award in Girlguiding.
Over the past few months, we have been adapting to new ways of working, living and guiding.
Supporting each other as Girlguiding members has never been more important, as we ensure that we are offering as many girls and young women as possible a blended guiding offer. – Laura, Lead Volunteer for Growth.
Many are the challenges faced by our amazing volunteers, whether that is setting up a Zoom meeting for the very first time or trying to engage with girls and busy parents.
Laura believes Queen's Guide award candidates can be perfectly placed to get involved, and help other volunteers during this time. 'They could be a digital guiding buddy and support units to get up and running virtually, or they could help volunteers organising a well-deserved break by arranging a virtual quiz or a socially distanced cuppa and cake'.
We speak to Torill about her experience of working towards her Queen's Guide award during lockdown.
What have you been doing for your Queen's Guide award during lockdown?
I am currently taking Portuguese classes online for my personal skill development and helping to run Zoom meetings with our Brownie unit for my service in guiding element 1.
I've decided to leave the outdoor challenge until after things have returned to some sort of normal. I know there will be a lot of obstacles at the moment, and there are many uncertainties, so I'll focus on what I can do and not worry about what I can't.
For my residential, I'll be part of the international service team at the European Jamboree in Poland. It's not until next year, but the extra time I've had in lockdown has enabled me to find all sorts of interesting upcoming events and apply for them. I've also spent time contacting people for my community action, for which I plan to look into factors surrounding homelessness.
Have you enjoyed working on your award during the lockdown?
I only started my award a couple of months ago, right in the middle of lockdown, but it gave me something to focus on after uprooting my life a few months beforehand. After spending a few days staring at the different elements, two parts excitement to one part fear, I decided to give it a go.
It became far less daunting once I went through it properly, imagining what I could do for each element. It's been really exciting and the lockdown has, in a way, made it easier. Both myself and my language teacher have had more time and therefore more flexibility in when we do our lessons.
Without the time constraints of having to go out to see people, run errands, or attend physical meetings, I have found myself with much more time on my hands which I have directed towards the award. Yet again, I find myself ever so grateful that such a great organisation exists and that I get to be part of it.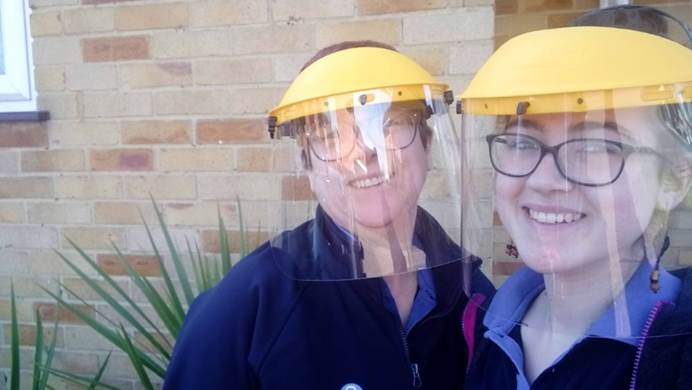 Have you done any virtual guiding for the service in guiding elements of your award?
Yes! Our Brownie unit has been having Zoom meetings. It was a bit of a learning curve to start with - to be honest, it still is - but it's been so worth it. We've had a drop in how many girls turn up but I think some are just tired of being online all the time (that's something I never thought I'd say about younger generations!).
We've been able to adapt a lot of the programme for them to do remotely and we're hoping to do a virtual camp sometime in the next few months.
What would you say to anyone thinking about starting their Queen's Guide award during lockdown?
Do it! I'm thoroughly enjoying it and I know it will be a great shared experience with all the other members working towards their award during this strange time. I know it can seem a little overwhelming at first, but once you read it a few times you see that it's not that scary.
Three years is a long time (though it will go by quickly, so don't leave it all until the end!) so don't worry about anything you can't do right now, such as the outdoor element, or some of the service in guiding elements. Keep your mentor informed about what you're doing and if you have any doubts or concerns - they are there to support you. Good luck and, most importantly, have fun!
Keep up your Queen's Guide
Coronavirus doesn't mean you need to stop working towards your Queen's Guide award - explore more ideas and adaptations in our guide.
Queen's Guide award during coronavirus