Our Camp CEO  experience
Meg, Holly, Lauren and Victoria share their moments of inspiration from Camp CEO - a chance for girls to learn from leading women before taking aim at their own goals
Meg, Holly, Lauren and Victoria
16 August 2018
'I was sceptical at first' - Lauren, 2nd Gibraltar Senior Section
When first thinking about applying for Camp CEO, I read through the info page and came across a quote from a girl describing it as the 'most amazing week of [her] life' and I have to say I was sceptical. Now that I have attended the camp myself, I can also honestly say the same.
Rarely in life do you get a chance to go away with a completely random mix of people and share such unique experiences.
Unique is certainly the word to describe Camp CEO. Going into it I felt I would be inspired solely by my CEO, who of course did so.
However, it was not simply my CEO who inspired me. All the amazing girls I met on this camp inspired me hugely. I can truly say I gained something from each one of them and have the greatest faith that all of us will go on to great things.
The same can be said for all the CEOs. I think it's near impossible to be in a room of such successful and yet normal women and not feel incredibly inspired. Overall, I think the environment was just one of such positivity, security and kindness, something I have never felt with such intensity, that the feeling of inspiration was there throughout.
'In a few years you'll be back here as a CEO.' The words of my CEO really sum up what this experience did for me and what it can do for others.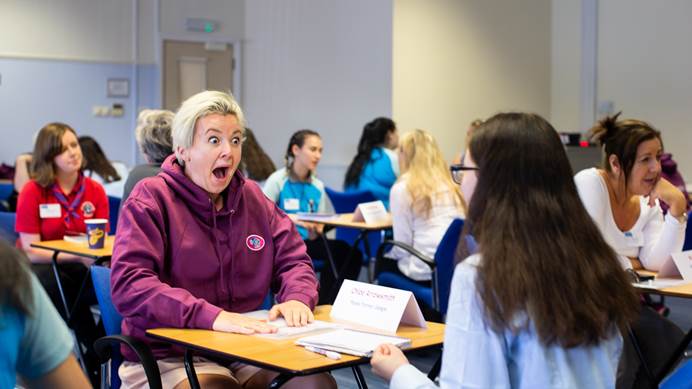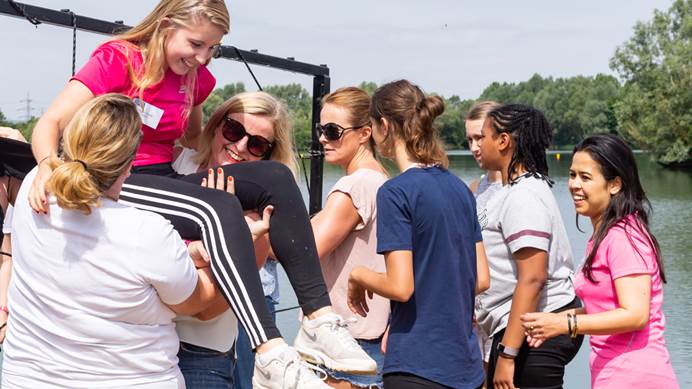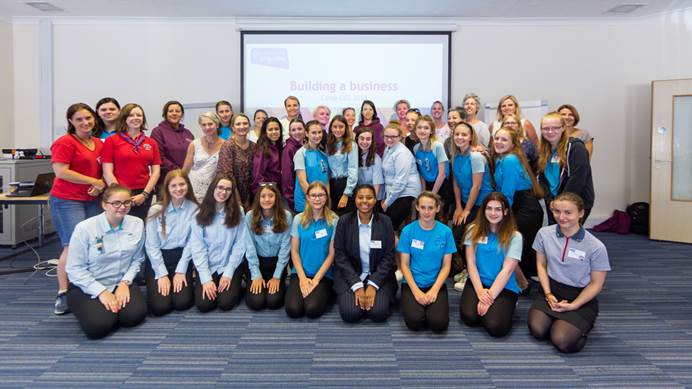 'I feel like a whole new person' - Victoria, 1st North Denbighshire Division Senior Section
Following on from an exciting week at Camp CEO, I feel like a whole new person, brimming with confidence to take the steps to achieve my goal of a career in biology. I learnt valuable interview skills, such as what employers are looking for and how to hold yourself. This skill was also developed further through a personal branding workshop.
The most inspiring part of Camp CEO was meeting the CEOs through speed networking and the one-to-one talks with my mentor.
I enjoyed finding out all about these inspiring women and they taught me that it's okay to not have clear idea what career path to take - you must find and grab opportunities whenever you can.
I learnt a lot about what it means to be a successful woman in the business world, no matter what career path you desire to take. I was also inspired by the social media workshop, it encouraged me to take a step and start my own blog, this is something I have wanted to do for a long time.
Overall, Camp CEO has been an amazing experience because I got to: make new friends; try out some once-in-lifetime adventurous activities, such as banana boating; meet inspiring CEOs, who helped me with my future career path; and leave as an overall more confident individual. This fantastic experience will definitely stay with me throughout my future career.
'She really pushed me to change how I view myself' - Meg, 1st Tiverton Rangers
How can I fit Camp CEO into something which isn't the length of a novel? That's truly how much praise I can sing for it. Camp CEO allowed me to build friendships with amazing people who I may never have met otherwise, try out crazy adventurous activities, and gain skills in areas I have never had the opportunity to explore before such as personal branding and networking. I never imagined I could get so much out of only four days!
One of the things that inspired me most was the skills possessed by my now friends, our leaders, and those that lead workshops for us. Everyone had different things they were good at, and we could each pass those skills onto others or use them to help one another.
However, I would probably say the CEOs were the most inspirational. Speed networking allowed us to meet ten CEOs each which was an amazing opportunity.
It is not often that young people are able to talk with those of very high positions in industry.
The stories and life experiences they shared with us during the speed networking and business task were incredibly valuable. Being in such influential positions is something many of us strive to do.
My mentor was one of the most inspirational people I have ever had the pleasure to meet, and continues to inspire me, as she really pushed me to change how I view myself and strive to be the person I want to be. Hopefully I can use what I learned on Camp CEO to become that person!
'We were planning the reunion before we'd even left' - Holly Thompson, 1st Yapton Rangers
To earn a place on the camp, we had to complete an application form and then have a phone interview - I found this really scary but it was a really useful experience. Throughout the week we completed workshops on topics such as personal branding, interview skills, social media and networking - all of which were really interesting. We had one to one mentoring with a CEO who was working in a field which interested us. It was really helpful to have a mentor like Jacqueline, who was interested in many of the same things as myself and who was able to help me evaluate my options and plan how to get to where I want to be.
We also got the chance to try some adventurous activities. We did banana boating, Aqua Park and archery - and they were all so fun!
My favourite was banana boating, we did fall in but it was so warm anyway that the lake wasn't too cold!
We also did activities in the evenings such as yoga and African drumming - which were really fun too!
I made so many amazing friends from all around the country during the camp - we were planning the reunion before we'd even left! The whole experience was amazing, and I'm so glad I went because it's given me skills and confidence to help me in later life. Thank you so much to the leaders who ran this camp, it was amazing!
Do something unforgettable
There's always a way that you can get more involved with Girlguiding. We have events and opportunities for all ages across the UK and around the world.