Inspired to take Action for Change
After our inspiration weekend, Action for Change participants Ellan and Emily are ready to make a difference
Emily and Ellan, Action for Change participants
09 December 2019
"Our inspiration weekend has made us more passionate, given us more determination and empowered us to fight for improvement whatever our topic" - Emily
The 2019-2020 Action for Change programme kicked off with an inspiration weekend in York at the end of October. After a full weekend of icebreakers, meeting our coaches, exploring Future Girl, inspiring talks, group discussions and skill-building, we left with plans for social action projects to deliver in our communities.
While some of the participants' chosen topics share similarities, such as mental health or education, each project is entirely unique.
Sarah Corbett - a leading craftivist and true inspiration to participants – facilitated workshops on using craft and gentle protest to make change. She explained that craftivism, when done with love, care and strategy, brings self-care and activism together. It can create relationships with those you want to influence. Craftivism proved to be a highlight for many:
"I loved the interactive craftivism workshop with Sarah Corbett" - Aileen
"Craftivism proves that we can share love and make change at the same time" - Emily
Remembering to do something important to us or to relax is not something most of us thought to include in our project timetable.
We learnt that self-care can come in many different forms – having a relaxing bath, watching a film, spending time with friends and reading positive affirmations about how amazing we are and the wonderful things we can achieve.
In addition to the network coaches and workshops, we also had some inspiring guest speakers. Maya Ghazal, a spokesperson for young refugees and migrants across the UK, and Youssra Elmagboul, a student campaigner from SOAS, visited the inspiration weekend to share their stories.
Maya shared the many different challenges she has faced throughout her life, explaining that the most difficult were those she went through as a refugee. She encouraged us by sharing that 'change comes from faith in your message.' Maya's attitude and perseverance inspired participants and coaches alike.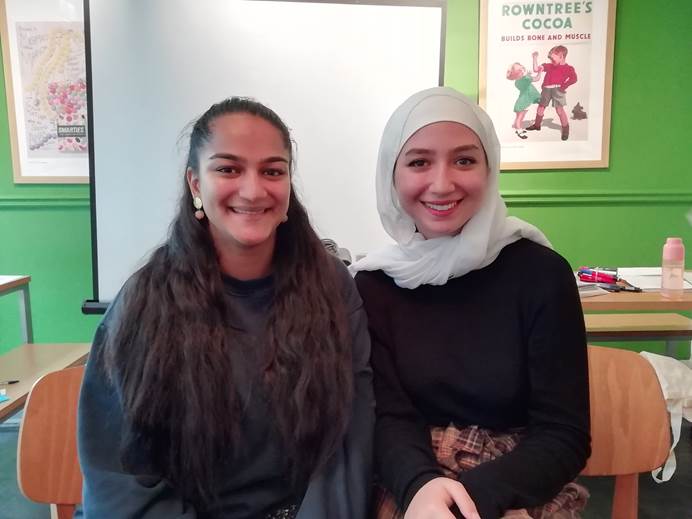 Youssra had tips for future change makers. She explained that progress can happen in unexpected ways and shared her belief that if we 'educate one, the message will spread.'
This acts as a lesson to all of us participating in Action for Change that growth may seem slow at first, but that with enough passion and determination (as well as personal TLC to avoid burnout) our social action projects will bloom.
"

It was great to meet such inspiring women speakers, they really made me feel I could help make a change I want to see in the world." - Cath
Overall, the inspiration weekend truly was as inspiring as promised! The chance to meet with people from across the UK all with different interests and expertise enabled even those of us with only the vaguest idea of a project to feel empowered to make change.
"

It was a nice experience getting to know more about how important it is to further expand on our ideas with other people's inspiration received." – Safanah
"

The inspiration weekend was amazing, I was able to meet like-minded people and share and build my ideas. I left with a clear plan of my campaign and I am highly motivated to make change in my area!" – Rebecca
The networking and teambuilding have made us all feel connected and we know that throughout the 9-month duration of our projects (and beyond) we are not alone!
While we will all be working individually with our coaches, we are all one big team - women supporting & empowering women to make a difference. Facing change alone might feel daunting, but when we all work together, the inspiration weekend is only the beginning of something big and beautiful.
"

Working as a team and meeting like-minded girls really helped me feel as though all of our projects will be a success." – Cath
Girls making a difference