Get with the programme
Watch the first episode of our series looking at the life of a guiding unit. See which activities from our new programme left the girls amazed this week.
It's not all cooking and camping: follow the adventures of a guiding unit
What's life like for girls and volunteers in guiding? How do you make activities work for every girl? And, most importantly, how do you construct a bean bag zip line? Watch our new five-part series following two guiding units to find out. We'll be covering their adventures as they get to grips with our new programme, made up of all the activities and badges girls do in guiding. The programme launched last summer and is the biggest overhaul we've ever seen - but what do girls think of it?
Keep tuned for a new episode every month from March to July, covering topics inspired by questions from our volunteers.
00:02
Voiceover: Every week nearly half a million girls around the UK meet and take part in Rainbows, Brownies, Guides and Rangers. In July 2018 the Girlguiding programme, made up of all the activities and badges girls do, was given the biggest overhaul we've ever seen so now we're going to see how two different units are getting to grips with the new programme, what life is like for girls and leaders at the heart of guiding and how they make it work for every girl.
[Girls applause]
00:45
Leader Sophie [talking to a group of Guides]: And I've told Ella that I will give her a really big badge which is a picture of Baden Powell if only she does her Whittling badge!
[Laughing]
00:56
Sophie: I've been a young leader since I was 13, because I grew up in Wales, in a very small village. But then I moved to London and I was going to my graduation for my teacher training and I walked past the hall and I said to my mum 'They've got Brownies!' and that was it. I went along the next Friday and I've been here now - this is my 13th year. I run three separate units. We have Rainbows Brownies and Guides some of them have been with us for eight years now which is really nice.
01:26
Guide to camera: It's not usually friends that you see in school you just see each other once a week and it's good to connect with them and do an activity that you wouldn't usually do.
01:41
Leader Anne: I've been a leader here since 2001, so that's nearly 20 years now isn't it? We've got a whole mixture of girls in our unit, it's no two the same. I'd say we do all the usual typical things like playing games.
01:53
Brownie: Brownies is fun and time for freedom. [Brownies playing games in hall]
02:04
Sophie: Obviously the new programme was introduced and it's completely different in some ways, because there are now different coloured skills builders that the girls can earn, and the interlinked interest badges and themed badges. Normally what we would do is, at the end of the term before, we present the girls with some options. But as they're getting older, they have clear ideas about which kind of activities they like, so it's just finding the balance and just sort of embracing it. Today the Rainbows were starting on their new skills builder, which is the Innovative skills builder, which is part of Express Myself [one of the six Girlguiding programme themes].
02:42
Sophie to Rainbows: We are going to be doing some different experiments this week.
[Volunteer helps Rainbow put a bowl over a candle].
Sophie: So, what does a candle need to burn?
[Rainbow holding a magnet beneath a table to move a paperclip on top of a table]
Rainbow: We're putting the magnet underneath and moving it around.
03:02
Sophie: The Brownies, the thing was that they were supposed to learn, was how to strike a match safely.
[Two Brownies hold a foil cake case of popcorn over a candle.]
Brownie: Usually when the popcorn is heated it just pops which explains why it's called popcorn.
Sophie: And then the Guides did the speedy explorers.
[Guides attach bean bags to a zip line and run it down a zip line.]
Guide: We have to try and attach a bean bag and make a zip line and see who can go the fastest down.
03:29
Anne: We do get the girls involved too and so we're planning tonight to talk to the girls about what they'd like to do this term and decide which unit meeting activities, which skills builders which themes they want to go down.
03:42
Anne [showing activity cards to girls]: This one's got water involved and a bucket with holes in it. It's called water run and we would have to do this outside.
Brownie: We are voting for what activity we want to do this term.
Anne: We're still getting the hang of the new programme, with it being still very new, but last time for example we did the Have Adventures skills builder. But then we also took them bowling because it was something that they'd asked to do.
04:02
Sophie: We are doing the new programme most weeks to be honest because it helps me to have the cards. I'm like 'okay these are some good ideas that I can I can work from'.
04:09
Guide: It's just a nice way to finish the week and just a place to have fun to be free.
Sophie: But we didn't want to give up on the old activities that the girls really like doing.
04:23
Clare: I think it's important to keep some of the old stuff so it's still familiar, although the new programme is introduced a lot of the core values are still the same.
04:39
[Brownies standing in group playing a game]
Brownie: I want to make a difference.
Sophie: They really like the fact that they're working towards specific badges and I think as time goes on I think more of them are going to cotton onto that and get quite competitive. They do like to collect their badges.
Anne [to Brownies]: We've got the water one! [The activity they have chosen to do.]
[Brownies cheering and clapping.]
Ends
Episode 1: It's a balancing act
Meet 1st Coaley Brownies and 6th Clapham Rainbows, Brownies and Guides - our hosts for the next five episodes. Leaders Sophie and Anne tell us how they get girls involved in deciding what to do and how they balance the mix of old favourites with new activities. Meanwhile, the girls get down to striking matches, popping corn and some very frothy experiments.
If you're a Girlguiding leader, try the activities in the episode with your unit too:
Rainbows got messy with exciting experiments from Innovate Stage 1 skills builder.
Brownies tried the Strike a light unit meeting activity (available from our online shop, Girlguiding regional or volunteer shops or our catalogue).
Guides got going with speedy explorers from Innovate Stage 5 skills builder.
Or take a look at our badge finder to explore all the badges, awards and skills builders in our new programme.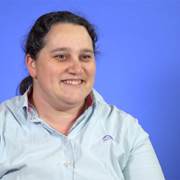 Meet Anne
Leader 1st Coaley Brownies and commissioner
Anne's been leader of 1st Coaley Brownies since 2001. She says no two Brownies are ever the same - but they do all typically love playing games!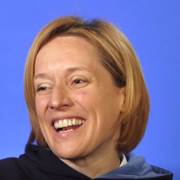 Meet Sophie
Leader 6th Clapham Rainbows, Brownies and Guides
Sophie's been leader of 6th Clapham Rainbows, Brownies and Guides ever since she walked past a Brownie unit on her graduation day and couldn't resist volunteering!
Explore our new programme
Find out about the awesome badges and activities that girls do in guiding as part of our new programme.
Explore the programme