3 easy activities for Safer Internet Day
We're supporting Safer Internet Day on 6 February to help young people stay safe online. Here's how you can get involved too.
Girlguiding
29 January 2018
The internet is full of amazing things for young people to see, learn and do
But our research shows that 54% of girls aged 11-21 have come across unwanted violent or graphic images online (Girls Attitudes Survey 2017), making internet safety is more important than ever.
That's why we're joining hundreds of organisations to support Safer Internet Day on 6 February. Run by the UK Safer Internet Centre, the day is about promoting the safe and positive use of digital technology for children and young people.
This year the focus is on relationships that young people form online. And exploring ways to ensure that these relationships remain healthy, positive and fulfilling. So why not try one of these activities from our friends at the Safer Internet Centre to start the conversation with your unit.
1. My online hero
Ask girls to write down a short soundbite about someone who inspires them online. It could be a vlogger they follow or a body positive campaigner on social media. The skill is to be clear and concise so that lots of people can share their online hero. 3-9-27 means they need to make 3 points that they can say in 9 seconds using up to 27 words. Give the learners about 5 minutes to prepare their statements and you could use a timer to keep them to the time limit of 9 seconds.
2. Conduct a thunderstorm
A facilitator (this could be an adult or child) leads the activity. The idea is to create a thunderstorm sound by all working together – explain that each sound represents a kind deed or comment online. The facilitator walks round the circle conducting the storm. First the facilitator rubs their hands; as they walk past each learner, the learner should also begin to rub their hands.
When the facilitator gets back to the starting point they should click their fingers; as the facilitator passes them the group should click their fingers too. Next the facilitator claps his or her hands, then stamps his or her feet. This whole sequence is then repeated in reverse order, as the storm dies away.
Draw out the idea that, if we work together to spread positivity online, we are more powerful than if we work alone.
3. Quiz: How does the internet affect your friendships online?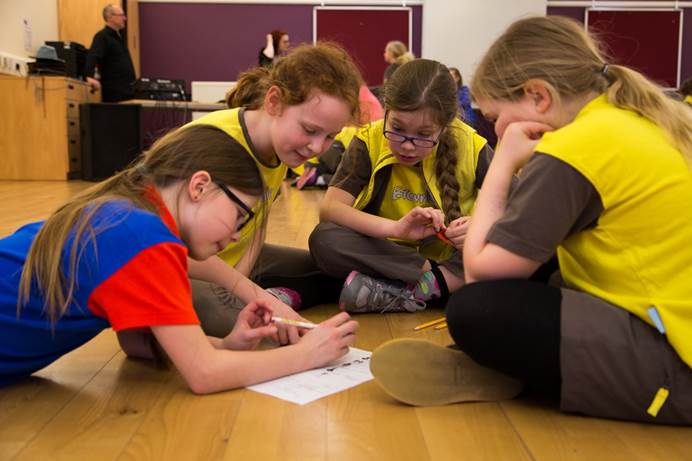 See if your unit can ace this Safer Internet Day quiz exploring the key issues around online relationships. You could do it altogether or split into teams.
More on talking with girls