6 family-friendly activities for Easter
Celebrate the long weekend with these cracking activity ideas
Girlguiding Programme team
08 April 2020
Wondering how to celebrate Easter in quarantine at home, or looking for some fresh inspiration for family fun during the long weekend?
We've got some egg-cellent activities, things to make and games to play for you this Easter.
Decorate with dough
Create colourful decorations with this recipe for salt dough Easter eggs. Try different sizes, paint lots of patterns or decorate each egg to look like every member of your family!
You'll need:
500g plain flour
500g table salt
250ml warm water
Matte water-based sealer/varnish (e.g. Mod Podge)
Acrylic paint, glitter or any other decorating materials
What to do:
If you're planning to dry the decorations in the oven, preheat your oven to 150C.
Combine flour and salt in a large bowl.
Gradually add the water, mixing until it forms a dough. If it's too dry, add a little more water.
Turn out onto a lightly floured surface and knead for 5-10 minutes until smooth and elastic.
Roll out to about 0.5cm thick and cut out your decorations by carefully cutting around a cardboard stencil or using an egg-shaped cookie cutter.
If you want to hang them up, use a straw to pierce a small hole in the top of each one.
Either leave them to air dry or pop them on a non-stick baking sheet and place in the oven for 1-2 hours.
Once completely dry, paint your Easter eggs. Be as creative as you like! You could even paint with a little glue, cover with glitter and then dust off the excess for an extra sparkly finish.
Seal them (to protect them from cracking) with sealer/varnish. Adults should of course supervise children when using the spray so as not to get it in their eyes.
It's race time
Have a family egg and spoon race! Hard-boiled eggs will make less mess – and you can eat them afterwards. If you can't find eggs at the moment, you could use cotton wall balls, small fruit or potatoes instead.
Set a start and finish line, and race as fast as you can, making sure your egg doesn't roll off the spoon. Get creative with your race course – it doesn't need to be a straight line. And if your egg does fall, then you need to go back and start again.
Get hoppy
Challenge your family with the hopathon championships – start by creating a score board and then compete in these hopping games:
Game 1: Grab a timer and count how many hops each player can do within a minute.
Game 2: Mark a starting line and take turns for each player to hop as far as they can – mark down where each player lands.
Game 3: Stand against a wall or fence with chalk in the hand closest to the fence and hold this arm up high. Hop as high as you can and mark your hop height with chalk on the wall. Who hopped the highest?
Game 4: Set up an obstacle course, but you can only hop around it. Time each player from start to finish.
Tie-breaker: The two players with the highest scores could go head to head in a lightning round – play each game again to find the ultimate hopathon champion.
Hidden treasures
Plan your own Easter egg treasure hunt. Kids can create one for the adults and adults can make one for the kids. Create clues to guide each player to find the next treasure spot.
You can use anything you like for treasure – chocolate eggs, sweets, or even challenges, quizzes or activities that need to be completed at each spot!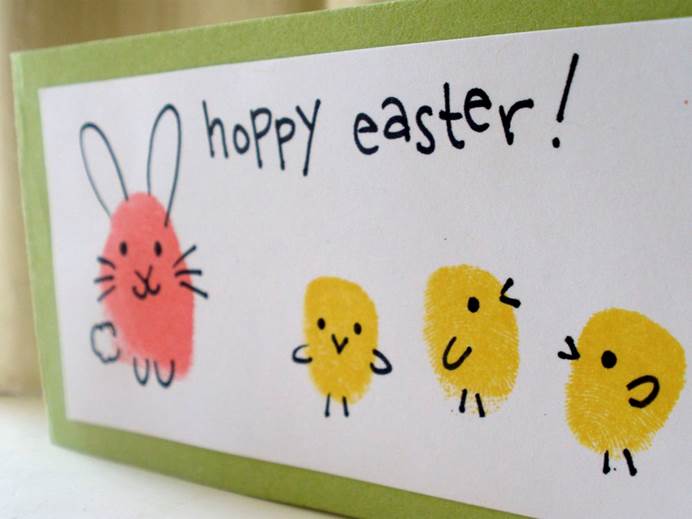 Bunny fun
Get messy and create fingerprint bunnies. Dip the tips of your thumb and fingers in paint, and use your fingerprints to create a bunny head and body. Add ears and other details with a pen, one the paint has dried.
You could put your finished Easter rabbits up in your windows, use them as Easter cards or make a family keepsake – why not repeat this activity each year and put them all in a memory box?
Pin the tail on the bunny
For this springtime twist on a classic game…
Start by drawing a big bunny on paper or cardboard.
Cut out a small paper circle for each player and write their name on it.
Glue cotton wool to each paper circle to make each person a bunny tail. And write each players name on their tail so you can keep track.
Each player takes a turn being blindfolded and tries to pin – or rather stick (using sticky tape or Blu Tack) the tail on the bunny.
The best attempt wins!
More #AdventuresAtHome
Looking for more ways to keep the kids busy at home? Check out our free activities, with more ideas added every week!
Find more #AdventuresAtHome