7 activities to celebrate women's suffrage
Explore voting, democracy and how to change the world with these inspirational activities
Zoe, Girlguiding Digital team
6 Feb 2018
Bring 1918 to life for girls and young women in 2018
This year marks the 100th anniversary of the Representation of the People Act 1918. The Act gave some women and all men the right to vote for the first ever time. Try these activities to get girls and young women thinking about what the right to vote means today.
Keep an eye on our Vote 100 hub for more awesome activities to come. And why not register now for your unit's UK Parliament Week kit, an annual festival encouraging people to learn more about parliament.
And don't forget - share what you're up to on social media with #Vote100.
1. Hold an election
Form 'political parties', create manifestos and go on the campaign trail in Election Time. But which party will win the vote? This activity explores how politics affects our lives and builds confidence at public speaking. The same skills needed to be an MP in Parliament.
Activity time: 30 minutes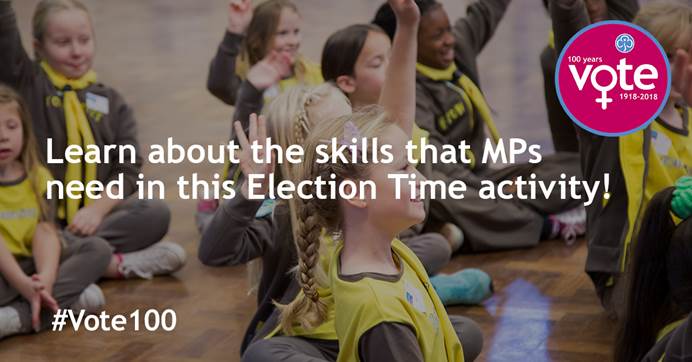 2. Discuss democracy
1918 was the year that some women and all men won the right to vote for the first time. But what does being part of a democracy mean? Explore this and more in Discuss Democracy.
Groups work together to decide whether a range of statements are fair. Everyone comes together to discuss what they decided. Did everyone agree? Were there compromises?
Activity time: 30 minutes
3. Change the world
Women in the suffrage movement campaigned passionately for the right to vote. Try Changing for the Better to start thinking about how you'd change the world for the better. And what you'd need to make it happen.
Activity time: 1 meeting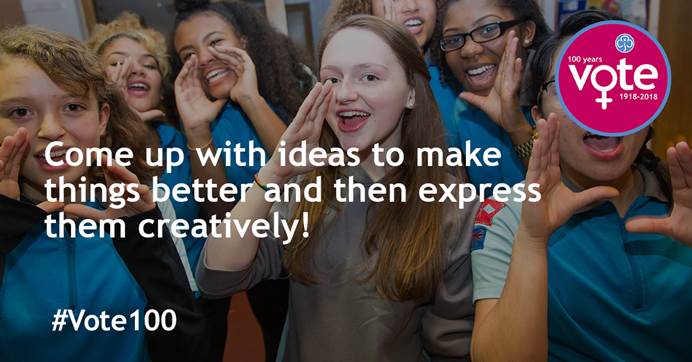 4. Speak out
Speak Up will get girls talking about the things that are important to them. Everyone has one minute to talk non-stop – until they repeat themselves, pause or says 'um'!
Activity time: 30 minutes
5. Join the Girlguiding Advocates
Our Advocates are a group of amazing young women who work to improve all girls' lives. Aged 14 to 25, they lead the direction of Girlguiding's advocacy and research. This year they'll be talking to MPs, acting as media spokespeople and speaking at lots of events. We think they're awesome.
Every summer we recruit half the 18 strong panel - why not make 2018 the year you apply? Or share what they're all about with your unit.
6. Explore stereotypes
In the early 20th century some people believed women shouldn't have the vote because they were too ignorant of politics to use their vote properly. (Find more of the arguments for and against women having the vote in this BBC resource.)
Think about which stereotypes might exist today about children, girls or young people in Confidence Tricks. Do these statements really reflect who we are?
Activity time: 30 minutes
7. Spread some girl power
Share positive thoughts about what it means to be a girl today in Girl Power. And think about how it might've changed since 1918.
Activity time: 30 minutes
We're promoting girls' voices