Join us for a magical day of fun!
Join in the fun at our exclusive ODEON screenings of Wish
Tickets for our exclusive ODEON screenings of Wish are now on sale! ODEON have resolved the low ticket cap, and you can now book up to 35 tickets in one go online. If you've already requested a booking for 35 tickets or under via email, ODEON will contact you directly. They'll give you the option of remaining on the waiting list, or booking yourself online directly. For any other questions or concerns, or to book for a group with over 35 people, please email [email protected] , and the ODEON team will get back to you. See you at the screenings!
Save the date on 9 and 10 December 2023 for an exclusive ODEON screening with all your Girlguiding friends. 
This winter we'll join Asha in wishing upon a star in the latest Walt Disney Animation Studios' movie 'Wish'. This animated musical comedy will take us to the magical kingdom of Rosas. Asha, a sharp-witted idealist, makes a wish so powerful that it's answered by a cosmic force - a little ball of boundless energy called Star. Together, they confront King Magnifico, the ruler of Rosas, to save Asha's community. And they prove that when the will of one courageous human connects with the magic of the stars, amazing things can happen.
Watch the trailer
We've teamed up with ODEON  to give you and your unit the chance to experience this magical adventure in your very own special screening. So, get ready to join Asha and Star on their adventures, sing along to the music and to be transported to the magical kingdom of Rosas.  
Date: 9 and 10 December 2023 
Time: 9:30am*
Run time: We will confirm the run time as soon as we can but it is expected to run for 1 hour and 30 minutes, plus 10 minutes for our exclusive trailer.
Where: At your nearest ODEON cinema, find participating screens here.
Cost for all Girlguiding members: All tickets are £6 each
Our special badge is now available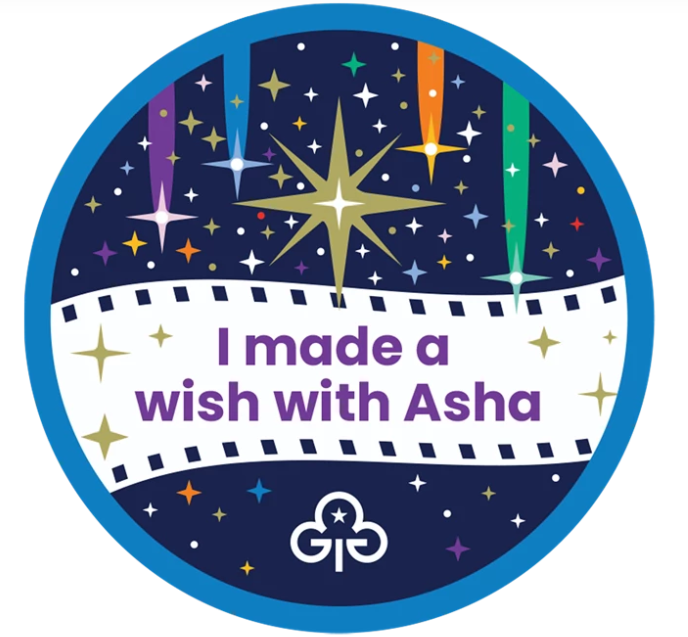 Frequently asked questions 
How do I book?  
Tickets are on sale for Girlguiding members. Units can book up to 35 tickets per transaction through the link at the top of this page.
For larger groups please email [email protected] making sure to include the following details: date, location, contact telephone, membership number, number of tickets, any accessibility requirements - the ODEON team will be happy to support!
*In some locations additional screens may be added at staggered times due to a high volume of guests. This will support our friends at ODEON to safely welcome Girlguiding units into ODEON branches and will be clearly marked online. Please email the ODEON team if you have any questions about these slightly staggered times.
We've pre-booked autism friendly and subtitled screenings at every location on Sunday.  If they sell out, or your unit needs alternative accessibility requirements please contact the ODEON team to arrange additional accessible screens.
I'm trying to book tickets for a group of under 35, and have emailed ODEON. Is it better for me to book online now that they've raised the booking limit?
If you want to book tickets for your group of 35 and under as soon as possible, we recommend you book online. However, if you've already sent an email requesting tickets you can wait for the ODEON team to respond to your email. They're working through booking requests on a first come, first served basis and we expect them to reply within 72 hours.
To reduce the risk of being double booked, the ODEON team will email to let you know about both of these options. If you choose to book online instead, you can just respond to that email letting ODEON know you've booked, and they'll take you off their waiting list.
Who can go?  
This exclusive screening is for all Girlguiding members. The film is a PG, so you might need permission from each girl's parent or carer for them to attend.  
What about refreshments?
On the day you can buy a discounted kids deal – a can of water, kids popcorn and sweets for £3.50. This will only be available on the day, so you don't need to book in advance.
Doors are scheduled to open at 8:45am ready for the 9:30am screenings, so you can get popcorn and seats sorted; however, we recommend checking opening times with your local ODEON cinema, as there may be last minute changes locally.
Share on social 
We'd love to see our members enjoying this event, so please tag us in any post and photos using @Girlguiding.  
Do something unforgettable
There's always a way that you can get more involved with Girlguiding. We have events and opportunities for all ages across the UK and around the world.