Join us at Mary's Magic Movie Screening
The nation's favourite nanny is back on the big screen in Mary Poppins Returns. Catch her at one of our ODEON screenings just for Girlguiding members, 19-20 January.
Get ready for 2019's most magical cinematic event
This January, join members from across the UK for a very special Girlguiding-only screening of Disney's Mary Poppins Returns.

Emily Blunt stars as the practically-perfect nanny with the magic touch in the brand-new musical adventure. We've teamed up with ODEON to give you and your unit the chance to see the film at your very own private screening. So grab your friends, hold on tight and jump into Mary's world of wonder with us.
Date: 19 and 20 January 2019
Time: 9.30am both days
Where: At your nearest ODEON cinema
Cost: £5.50 per ticket (or less if the standard ticket price at your local ODEON is lower)
How to book tickets: Tickets are now available to book!
If you're booking for nine or less people you can book online on the Odeon website.
If you're booking for groups of ten or more people - or are booking for Manchester Great Northern, Hereford or Tunbridge Wells - please email [email protected] with the following details:
Cinema location
Preferred date
Guest numbers
Number of snack packs
Leader's membership number
If you're booking by email you'll need to pay in person at the ODEON where you've reserved tickets.
If you have any questions please call us on 0207 834 6242 extension 3041.
What's the film about?
In Disney's Mary Poppins Returns, an all new original musical and sequel, Mary Poppins is back to help the next generation of the Banks family find the joy and wonder missing in their lives following a personal loss. Emily Blunt (A Quiet Place, The Girl on the Train) stars as the practically-perfect nanny with unique magical skills who can turn any ordinary task into an unforgettable, fantastic adventure and Lin-Manuel Miranda (Hamilton, Moana) plays her friend Jack, an optimistic street lamplighter who helps bring light—and life—to the streets of London.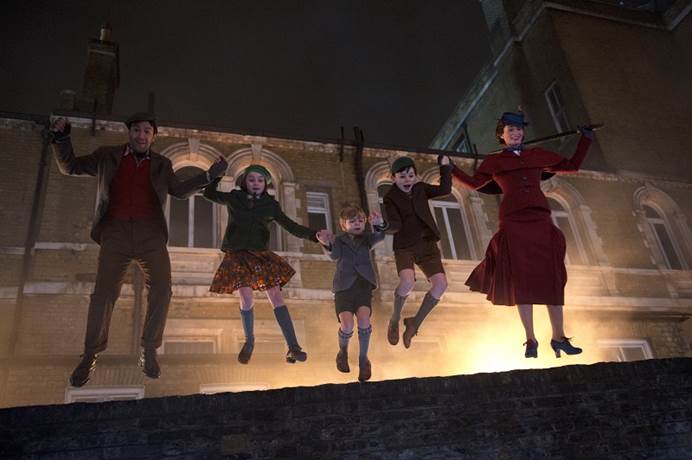 All about the event
What's happening on the day?
On Saturday 19 and Sunday 20 January 2019 at 9.30am, you'll attend your nearest ODEON cinema and catch a private screening of the new Mary Poppins Returns film. You'll have an entire screen just for you and members from your local area. Both girls and volunteers can get an optional snack pack with water and popcorn for £2.50.
Who can go?
Screenings are open to all Girlguiding members. The film is a PG – and you'll need to make sure you have permission from each girl's parent or carer for them to attend.
Mary's Magic Movie badge
Girls will be able to get their very own Mary's Magic Movie Screening badge - the perfect keepsake of the day. The exclusive badge, priced at £1, is now available to buy from Girlguiding volunteer shops and the Girlguiding online shop.
Do something unforgettable
There's always a way that you can get more involved with Girlguiding. We have events and opportunities for all ages across the UK and around the world.