11 fun things to do on International Women's Day
Celebrate girls and women on 8 March with easy activities to do at home or with your unit virtually
Zoe, Digital team
21 February 2021
We believe girls should feel free to be themselves.
But they tell us they often feel pressure to look and act a certain way (Girls' Attitudes Survey). So, to mark International Women's Day on 8 March, we've brought together lots of ways to get girls feeling good about themselves. And ways to celebrate each other too.
Whether you're marking International Women's Day at home or virtually with your unit, share what you're doing with us on Facebook @girlguidinguk or Twitter @Girlguiding using #IWD2021. Why not show your support with one of our special International Women's Day badges too – pick yours up from the official Girlguiding online shop.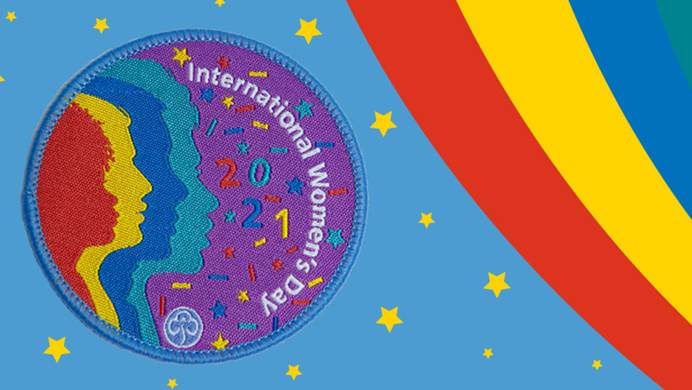 Celebrate each other
Try these just-for-fun activities to shout about all the girls and women who inspire you.
1. What would you say to your hero?
Think of one of your favourite girls or women. They might be someone who inspires you or who helps you believe in yourself. It could be a famous person or even your mum, carer or Girlguiding leader. What would you like to say to them? Write it in a letter, record a video draw a picture, take a photo or even make up a dance to communicate your message or what you'd like to share.
We'd love to hear and see what you come up with - email your letters, photos, drawings or videos to [email protected] We'll share a selection of them on our blog, Facebook and Instagram on International Women's Day. You could also share your message with your unit, friends or family.
If you need a little inspiration, why not try these sentence starters:
Dear ___________
I think you're amazing because _______
You inspire me to _________
2. Wear purple
Wear something purple on 8 March to show your support for International Women's Day. Purple has been linked with women's rights ever since the suffragist movement adopted the shade in the early 20th century and is now the colour of International Women's Day.
International Women's Day is about celebrating the achievements of women, supporting gender equality and empowering girls and women around the world.
3. Tell untold stories
Throughout history women and their achievements have often been left out of the history books. Turn detective and research the story of one the many incredible women who have changed history. Share their stories with your unit or your parents or carers.
Need inspiration? Discover the stories of Mary Seacole or Connie Mark in our Black History Month unit meeting activities, if you haven't already. Or take a look at our blog about Black British women who have shaped history and 20 women who changed the world.
4. Celebrate the women in your family
Explore your family tree and focus on the women who inspire you. Rainbows can take it further by doing their Family tree interest badge.
Be yourself
30% of girls and young women tell us they feel unhappy they can't look the way they do online (Girls' Attitudes Survey). Try these confidence boosting activities from our programme to feel good about yourself – just the way you are.
9. Put together a campaign
Campaigning is about getting your voice heard by people in power, and making change happen. Guides can campaign to make a difference with the Campaigning badge.
10. Get to know women's rights
Can you imagine not being allowed to go to school because you're a girl? Or being told you can't do your dream job? Luckily, you have rights designed to make sure you're treated fairly. Get to know them with the Rangers Women's rights badge.
11. Design a protest
Discover different ways to protest, find out what you care about and make your own protest with the Rangers Protesting badge.
More activities from International Women's Day
Want to take it further? International Women's Day have lots of helpful resources you could use with your unit or daughter. Their fact sheet explains what International Women's Day is all about. You can find more downloadable activities designed for young people on the International Women's Day website too.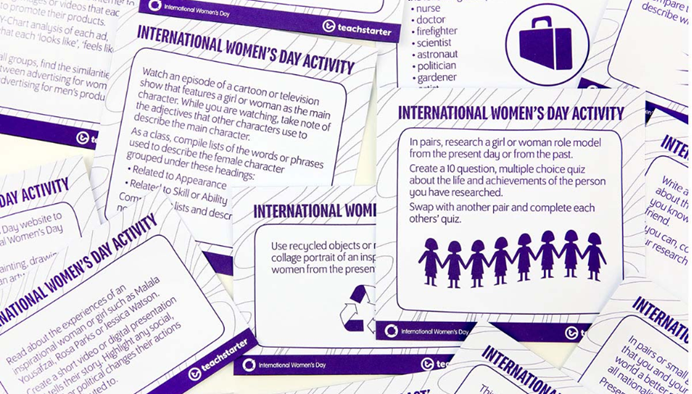 Ways you can support Girlguiding