Personal safety and harassment
Girls feel forced to change their behaviour to avoid sexual harassment
If women feel safe in their environment, they will feel freer to express themselves – say, do, wear whatever they want! - Girl aged 17 to 21, Girls' Attitudes Survey
What we know
Frequent threats to their safety means many girls are adapting their own behaviour to avoid experiencing sexual harassment.
When asked what the three most important ways to improve girls' and women's lives are, 50% of girls aged 7-10 included making sure that girls are safe.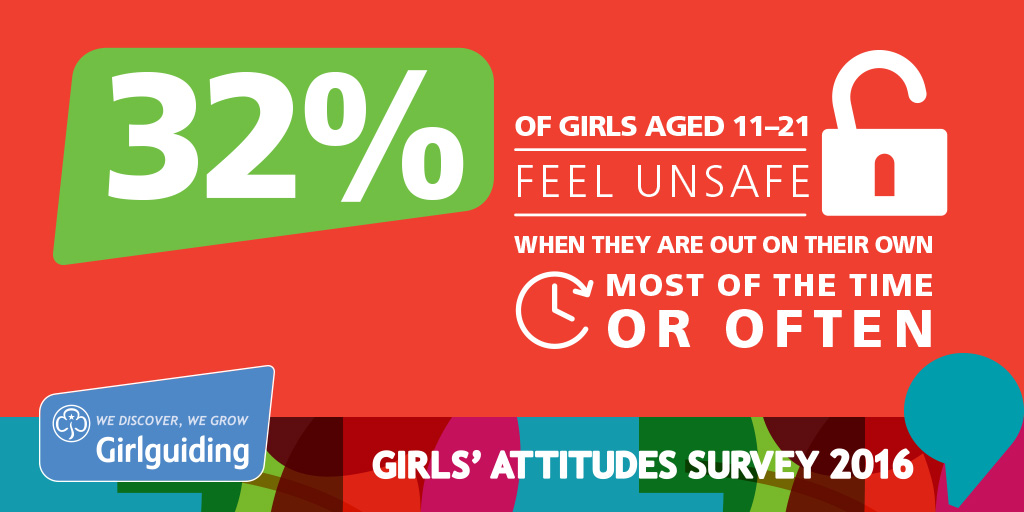 What we're doing about it
Girlguiding Advocates have started a petition to end sexual harassment in school, so that girls can be safe while they're trying to learn.
This followed from our pre-2015 General Election campaign Girls Matter, which included calls for change directly from girls and young women to the Government including demanding that schools take a zero-tolerance approach to sexual bullying and harassment.
We also submitted evidence to the Women and Equalities Committee's inquiry into sexual harassment and sexual violence in schools in England and hosted the launch of their report with recommendations for Government.
Read the full Girls' Attitudes report
Find out exactly what girls told us in the full report – then share it so that even more people hear what girls have to say.
How we're taking action on Girls' Attitudes findings