Body Confidence
Worrying about how they look is holding girls back from doing the things they enjoy
The way you look is seen to be much more important than worrying about any other problems. - Girl aged 11 to 16, Girls' Attitudes Survey
What we know
From as young as seven, girls say they feel embarrassed and ashamed of how they look. Fear of their bodies being criticised holds them back from doing everyday things they would like to do.
36% of girls aged 7 to 10 say people make them think that the most important thing about them is how they look.
54% of girls aged 7 to 10 said 'stop judging girls and women on what they look like' was one of their top three priorities for change.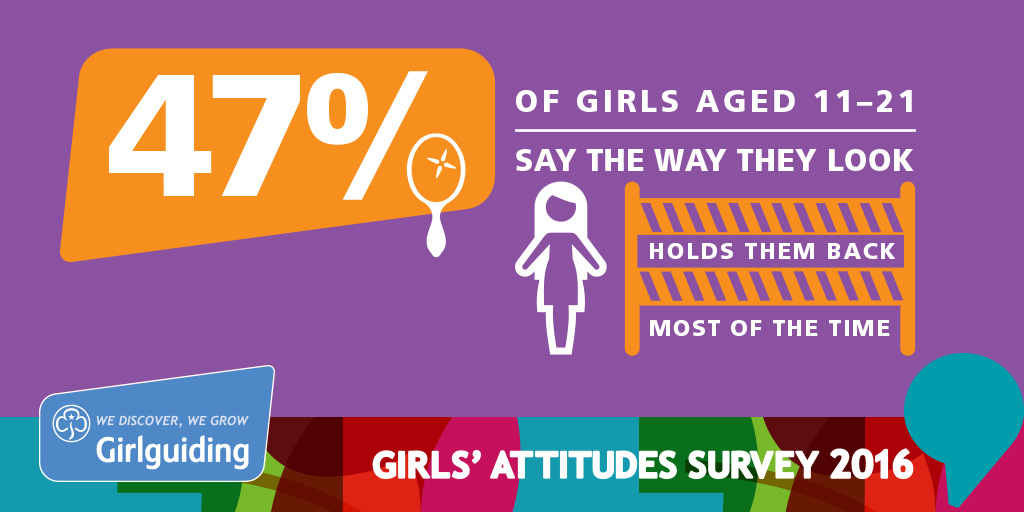 People at school talked about me having spots and called me ugly. It made me feel less confident. – Girl aged 7 to 10
What we're doing about it
We have developed Free Being Me, a body confidence badge for Brownies and Guides. Sessions help girls recognise myths about how girls and women 'should' look and be happy in their own skin. And we're supporting girls to call for change through our Girls Matter campaign.
No girl should have to worry about the way she looks – she should be having fun and enjoying herself. This year's survey is a damning indication that something needs to be done to tackle this growing issue. - Liddy Buswell, 18, Girlguiding Advocate and Brownie Leader
Read the full Girls' Attitudes report
Find out exactly what girls told us in the full report – then share it so that even more people hear what girls have to say.
How we're taking action on Girls' Attitudes findings