Aspirations and leadership
Girls have high aspirations but are worried that inequality in the workplace might hold them back
I feel that if I worked hard I wouldn't be able to get as far as men, even if they are less suited for something than I may be. I think there is still a lot of sexism when it comes to jobs, especially top jobs, and women aren't appreciated in the workforce. - Girl aged 17 to 21, Girls' Attitudes Survey
What we know
Girls have high aspirations and feel inspired by a diversity of role models. Half feel more determined because of the inequality they see in leadership. Yet many still see the workplace as an unequal place for women.
86% of 7 to 10 year olds think that girls and boys have the same chance of being successful in their future jobs, but only 35% of 17 to 21 year olds agree.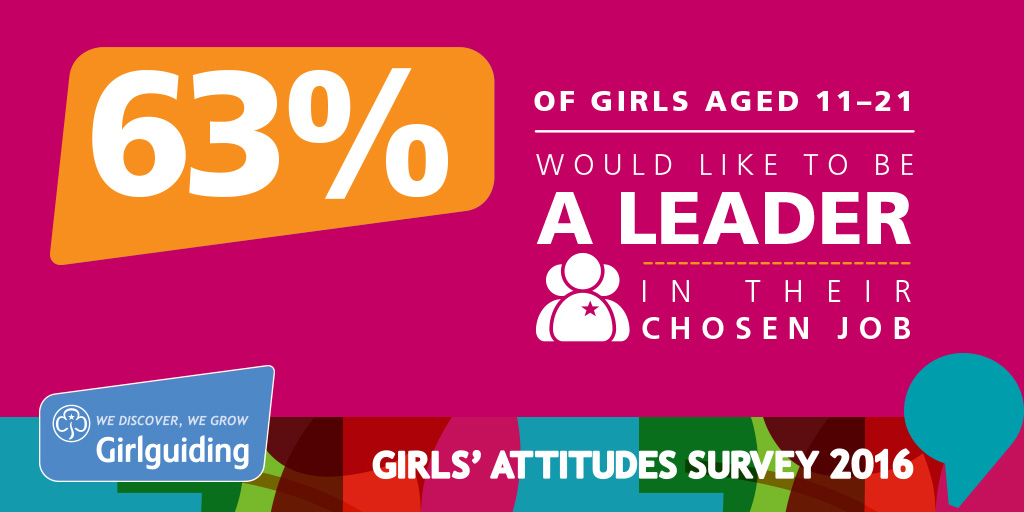 What we're doing about it
Girlguiding is committed to supporting girls develop leadership skills. Rainbows (5-6) choose their own activities, Brownies (7-10) have the chance to lead their groups or 'sixes', and Guides (10-14) can help lead Rainbows and Brownies.
We also run Camp CEO which offers 18 girls aged 14 to 17 a unique opportunity to be mentored by female CEOs and to think about their own goals.
Read the full Girls' Attitudes report
Find out exactly what girls told us in the full report – then share it so that even more people hear what girls have to say.
How we're taking action on Girls' Attitudes findings