End Period poverty and stigma
Girls and young women are leading our campaign to end period poverty and stigma. There's no shame in periods.
Let's talk about periods!
We want to help end period poverty and tackle the stigma and shame connected to periods.
Why? Because one in ten girls in the UK has been unable to afford period products. 49% of girls have missed an entire day of school because of their period, making up a lie or excuse (Plan International UK). And because girls in guiding believe there should be no shame in talking about their periods.
What are we calling for?
Tackle period stigma
We're asking everyone to pledge to talk openly about periods so that no one feels embarrassed or ashamed about periods.
Why? Because girls in believe language is very important in contributing to and tackling stigma and shame around periods. Using euphemisms and referring to 'feminine hygiene' or 'sanitary products' makes girls feel like periods are something to hide.
Take the pledge to end period stigma today.
End period poverty
We're delighted that the Government has agreed to provide funding for free menstrual products for anyone who needs them in secondary schools. We're now working to make sure this happens.
Why? Because 49% (Plan International UK) of girls have missed an entire day of school because of their period. Plus, a new survey from Plan International UK found one in five girls have changed to a less suitable period product and one in seven have had to borrow products from a friend due to cost issues.
Education
From next year all pupils in England will learn about periods as part of Relationship and Sex Education. This is great victory for girls as they have been telling us about the relationships and sex education they want in schools, and we've been working hard to make sure all young people get the information they need.
We are continuing to work with parliaments in Scotland, Wales and Northern Ireland to improve education about periods.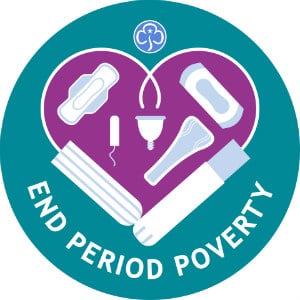 Take action
Everyone can take action to end period shame and stigma. Pledge to talk openly about periods now.
For Girlguiding members
Talk periods in your unit!
We've worked with fellow charity WaterAid to develop activities to get girls and young women talking openly about periods, ; the stigma connected to them, how we deal with them and poverty. Download the pack now and start talking with your girls.
Keep in mind that these activities have been developed for Guides and members of The Senior Section, but they can be adapted for younger girls too. If you're doing these activities then you might want to let parents know in advance.
Download the core activity pack
Download the additional activities pack
Girls and Leaders can also take the pledge online: 'I pledge to tackle period stigma by talking openly about periods, so no one feels embarrassed talking about them.'
Collect period products
We want to lead by example in Girlguiding, so we encourage all units to collect period products and keep them on hand in your unit for anyone in need. This will mean that if anyone's period arrives unexpectedly or they are unable to buy products, there's no need for this to stop them having a great guiding experience.
Collect period products for your local food bank
If your girls feel strongly about period poverty, why not collect products and donate them to a local foodbank for those who need them to access. If you don't have a relationship with a foodbank already, you can search for your local Trussell Trust Foodbank.
Buy our End Period Poverty badge
Once you've made your pledge, buy our End Period Poverty badge.
Visit our shop