Rainbow uniform
What colourful Rainbows should wear for meetings and formal events
Rainbows are our most colourful section. They wear a practical uniform to reflect that this section is all about doing things.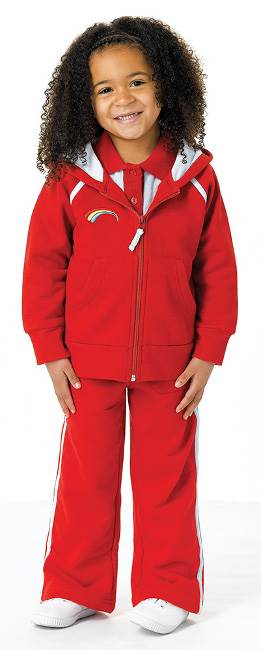 Uniform items
All girls should have a uniform top and bottom, chosen from the following items:
These item are also appropriate for events where formal uniform is required.
Girls may also choose to have additional items from our range of clothing for Rainbows but these are not considered uniform, for example tabards and baseball caps.
Neckerchiefs
Neckerchiefs are optional for Rainbows. If your unit chooses to wear them then girls can choose from the range of neckerchiefs in our shop.
Badges and uniform
Girls in Rainbows should follow these guidelines for displaying badges on their uniform:
Promise badges

- wear on the left-hand side where they are closest to the heart. Girls should be given a metal pin Promise badge on making her Promise not a woven trefoil badge.

Interest badges, skills builders and awards

- sew on any item of their clothing. Many girls sew these onto their hoodie or badge sash.
Only woven badges for participation or achievement should be sewn onto Rainbow uniform items.
Grab your guiding wear
All of our uniform items are available to buy online, direct from Girlguiding.