Welcoming parents to guiding
We want to make sure every parent and carer has the information they need to support their daughter right from the start
Giving parents and carers what they need to support their daughter into guiding
Every girl's guiding experience should start with a warm welcome – and part of that is making sure every new parent or carer has the information they need about guiding when their daughter joins.
That's why when every girl joins, her parent receives a welcome pack created especially for them that includes all the vital information they need to know about Girlguiding. The pack includes everything from what their daughter will need to get started to what skills and experiences she can gain as she progresses through the sections. It makes sure parents know how to find any more information they might need online.
The pack will be automatically posted to every girl's parents when she's added to GO so it's important her address is entered correctly in the database.
After parents have got the welcome pack, it's up to you as volunteers to keep parents up-to-date with the latest news from their unit as their daughter continues on her guiding journey.
What's in the welcome pack?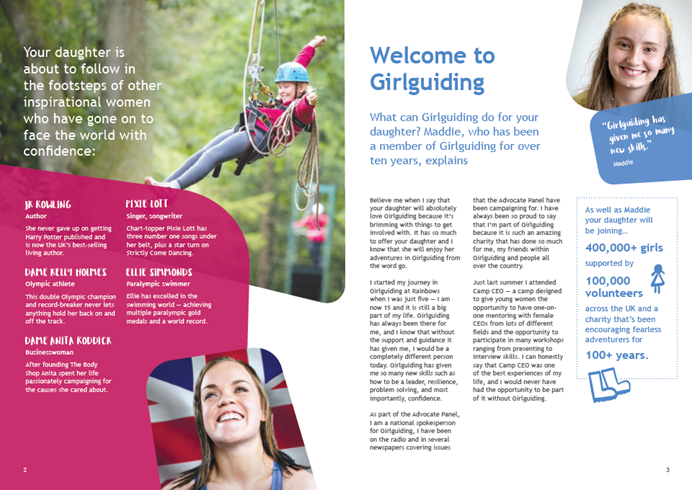 We talked to lots of parents about the information they needed when their daughter first joined guiding, and we've sent the final pack round to members of our parent testing pool to make sure it covers what parents need.
I think it's a super booklet with lots of information for new parents, and I think it gives a wonderful impression of guiding. - Helen, parent of a Rainbow in Ulster
The welcome pack also showcases the many different ways parents can get involved in supporting Girlguiding. This means you might get enquiries from new parents who want to volunteer with your unit – or it can help you can start the conversation with them about how they could help out.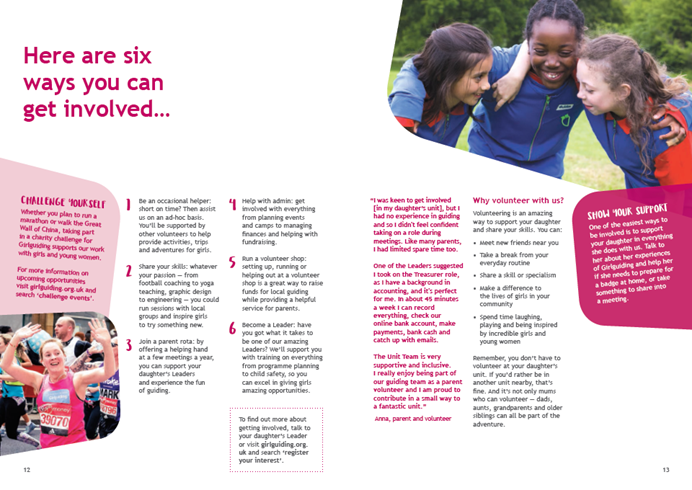 Involving parents in guiding
Ask parents to use their skills and time to help their daughters get the most out of guiding
Get parents to join in
More help with growing guiding