Make a sign
Ensure your local signage is on-brand and looks great
Creating a stand-out sign
If you are creating a sign for a venue, it is important that it looks professional and reflects Girlguiding's nationally recognised identity. We understand that different buildings will require different sizes and shapes of sign, so we have developed these guidelines to be as flexible as possible.
Using your local logo on signage
A full localised logo should be used on signage wherever possible. This includes all the logo elements: the logo, panel, the trefoil, our name 'Girlguiding', our strapline, the logo panel border and the highlight with your local unit or area name. It is important that the logo:
is readable
uses official Girlguiding colours
uses the original typeface
is used in high resolution (ie not a jpeg) so it is not distorted or fuzzy
is not reworked or altered in any way - including removal of any part of the logo
points in the correct direction - logos should always point inwards to the centre of an item.
If multiple units meet in one place, then all of the relevant unit logos - or a logo that incorporates all of these units - should be used. For example, you could use a relevant District logo to represent all units in that area. You can create a localised logo for your area using the online design centre.
The full logo should be accompanied by any text that is required - the title of the building, for example. This text can replicate the location name shown in the accompanying logo, and should use the Trebuchet typeface.
Signage on which the logo cannot feasibly be used
Some small or unusually-shaped signs won't have enough space to feature the full logo so that the logo text is readable. In these cases, a Girlguiding blue trefoil can be used in its place, alongside freeform text detailing the local unit or area name. The trefoil must not:
appear more than once
be reworked or altered in any way
be used as a replacement letter.

Creating signage in unusual materials
If you are creating signage in a material that will not enable the Girlguiding colours to be used (wood, metal etc), the logo can be reproduced in the natural colour of the material. Signage made in unusual materials should still follow all other signage guidelines set out above.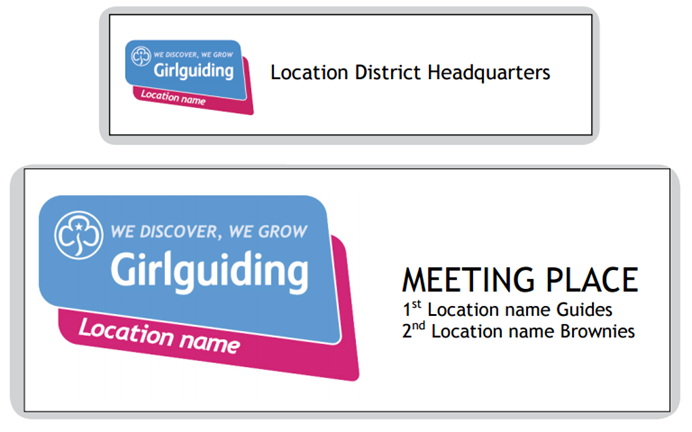 Get to grips with our brand