Our route for The Senior Section rebrand
Follow our journey from The Senior Section to Rangers
A new look and feel for The Senior Section
We're excited that The Senior Section rebrand is now complete and we can reveal Rangers and their exciting new programme.
We're also currently developing a new offer for women aged 18 to 30. Take a look at our current opportunities for this age group and how you can help shape the offer.
Our rebrand route
We've been working together with members to create a Rangers brand that we'll all be proud to be part of.
We've mapped the steps we've taken so far towards the new 'look and feel' below. And we'll update this page as we progress so you can see the new brand come to life.
1. Picking our colours
In May, thousands of members (aged 12 – 25) and The Senior Section volunteers took part in an online survey to choose the new colours for the soon to be transformed section. The results are in and we're happy to announce our classic combination of teal and grey will continue to be the brand colours for the new section.
We are also pleased to share the results of each of the colour options included in the survey below.
The results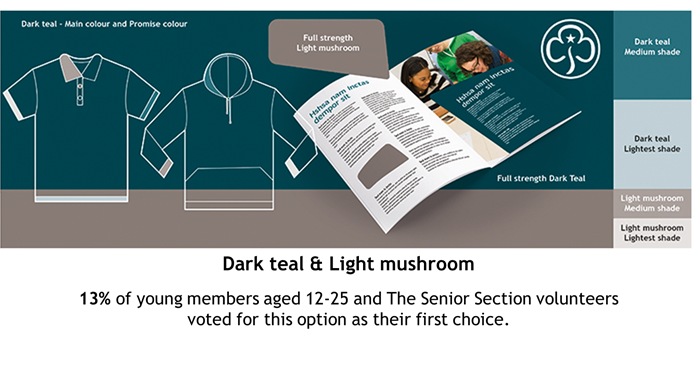 2. Finding a name
In early June, we worked with a brand consultant, the Lead Volunteer for Youth Participation, and a Council member, to develop a workshop that we ran at a handful of Guide and Senior Section units. We asked girls what's important for everyone to think about when naming the soon-to-be-transformed section.
Based on what they told us we asked all members to send us any suggestions they have for names, and over 1800 members got involved.
In July, we invited the young members (aged 12 to 18) who were involved in the January creative workshop to help us shortlist preferred names.
During August, these names were reviewed by our legal team to check that we are likely to be successful with any trademark application.
In September, we sent a survey to 12 to 14 year old Guides (via parents), members of The Senior Section, Senior Section volunteers and non-members between 12-18 years old, asking them to help us select their favourite name.
Over 8,000 members had their say and we're excited to reveal that the most popular name and the name over 65% of members told us they would be proud to be called is Rangers.
3. Logo
In October, using all the feedback members have given us, we designed the new Rangers logo, which will be used on the uniform, resources and gift range for the new section.
4. Uniform
As members told us so much about what type of uniform they'd like, the new Rangers uniform will be available in January 2019 and available to pre-order from autumn 2018.
In November 2017 we worked with a Girlguiding uniform supplier to create a range of potential designs for a polo shirt/t-shirt and a hoodie.
The designs were developed based on all the feedback from the January 2017 creative workshops and previous member surveys.
In January 2018 we shared the designs with members closest to The Senior Section to find out which ones they like best, by asking them to complete an online survey.
Over 7,000 members got involved and we're pleased to reveal the results which will be used to create the final uniform designs for the new section. We revealed the final uniform designs in the summer.
Alongside the new Rangers hoodie and polo shirt, the formal blouse will stay as part of the Rangers uniform and the design will stay the same.
Hoodie
40% of members voted for this design as their preferred option.
Members also told us that they'd like:
The logo on the left, chest
A full front zip
Zipped pockets
Thumb holes
Open hem
Relaxed fit
Polo shirt
30% of members voted for this design as their preferred option.
Members also told us that they'd like:
The logo on the left, chest
Buttons instead of a zip fastening
Feminine style but not too fitted
Using the feedback members have given us, we'll work closely with the Trading team and uniform supplier to create the final uniform designs and find the most appropriate fabric for the new Rangers hoodie and polo shirt.
What will be available for 18-30 year olds?
Young women of this age represent the future of our organisation. We want to support them to transition from their great experiences through each section, to become strong independent women and inspire the next generation of girls and young women.
We're at the early stages of developing our new offer for 18 to 25 year olds by bringing together the amazing opportunities available to them - including how we can provide a consistent level of support for participating in awards and qualifications that suits every member's differing needs.
We'll share updates as soon as we have them – keep an eye on our guiding for young women 18+ pages – and YeSS or 'Discover, grow' newsletters to see all the latest news.
Keep checking this page to see all the latest news on the rebrand.
All you need to know about upcoming changes to programme