What can Girlguiding members do in times of global crisis?
As the refugee crisis intensifies, we know that our girls and volunteers want to know how they can make a difference. Read our guide to what everyone in Girlguiding can do to help those in need
Girlguiding members have an important part to play in welcoming refugees to the UK
We are all part of a global guiding movement with shared values of caring for and helping others and making a positive difference in the world by taking social action.
We know that our members care deeply about the people who are affected by crises around the world and who find themselves seeking refuge in other countries. Here's what you can do to give those seeking safety in the UK a warm welcome.
Welcoming new girls to Girlguiding units
With a network of almost 30,000 units around the UK, Girlguiding is well-placed to provide support to girls and young women who are new to the UK and their local area. Through regular meetings and activities, our members can give these girls fantastic opportunities to have fun, try new things, build strong friendships and find their voices.
By welcoming new girls and young women into your unit, you will make a real difference to their lives. You will give girls an opportunity to make friends and be part of community life. You will give girls a safe space to learn about their new environment and adjust to a new way of life. You will give girls comfort in knowing they are welcome here and that people care about their well-being.
Practical things to remember
An important part of our response to the refugee crisis is making sure that all girls - no matter what their identity or background - feel supported and involved in guiding from the start of their journey. These essential resources have practical advice that you can start using now.
The refugee crisis is a fast moving situation where things change for regularly for people affected. That means that your judgement and common sense will also be important tools to decide the best approach in your area.
More ways to make a difference
Start the conversation with your unit
Involve your girls in activities that get them thinking about the refugee crisis and how they can take action to help.
Make yourself at home helps girls identify how they can be welcoming as a unit and make their meeting place more inviting (for girls aged four and over).
Aid Agency puts girls on the frontline and asks them to imagine they are working in an international aid agency (for girls aged 10 and over).
Show support for girls overseas
Over the past few months, guiding groups around the UK have organised collections to send practical support overseas.
In Somerset, Paulton 2nd Brownies started an initiative to send care bags to child refugees working together with a local refugee support charity RAISE Somerset. Their idea was so popular in their area that it turned into a county-wide initiative in a matter of days!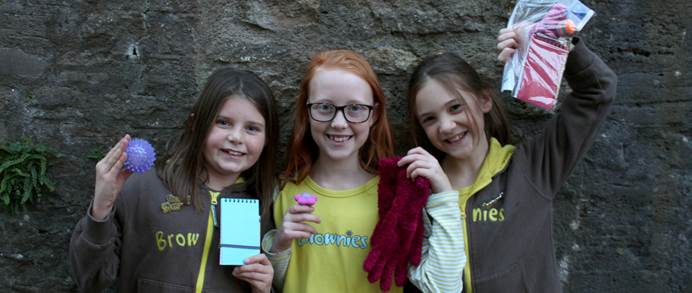 It's so important for girls to think about the world around them. It's not about politics, it's not about religion, it's about children helping other children. It's very, very simple - Julie, Leader, Paulton 2nd Brownies
Mollie, Brownie, aged 9, is excited that other groups and schools are now getting involved. 'It's really nice to be able to help other children – I put something to eat, something to play with, a hat and gloves and a notebook in my bag. It's good we started it and others can now lead and take it even bigger.'
It's not just Paulton 2nd Brownies who are doing their bit - check out these other initiatives led by girls in guiding.
Provide support in your community
You and your guiding group can donate goods, services or your time locally. For more information read the Home Office's advice on how to help refugees coming to the UK.
Find more inspiration from those involved in Guiding and Scouting around the world.
Share your story
Tell us what you and your girls are doing to help the refugee crisis. We'd love to hear stories about everything that is happening – big and small – to get a picture of how guiding is making a difference around the UK.
What makes guiding special