Girls tell us how it is
What do girls want the future of Girlguiding to be? We hear two volunteers' experiences of running strategy activities
Strategy 2020+ project team
11 March 2019
What does a snake called Cecil and a Galactic Guide have in common? They're just a couple of the free unit meeting activities that help girls feed into our Strategy 2020+ project.
We got in touch with two leaders who ran some of the activities, one even including a real snake (also called Cecil!). Let's hear what they have to say.
And remember, these activities all count towards the Know Myself theme award. They are available until 31 March if you've not tried them yet.
My snake Cecil
Girlguiding's strategy activity 'Rainbow snake' caused much excitement for me. The brief – tell Cecil the snake all about Rainbows, what makes it great and what we'd like to do differently.
I have a snake called Cecil! This was an opportunity not to be missed. I also assist at a Brownie unit and their activity was 'Make your snake'. Cecil has now visited both Brownies and Rainbows.
The girls were very engaged in the activity, they enjoyed rushing round the room to find the correct colour paper, as Lisa, a parent helper, said "having the girls collect things from around the room brings another element of fun to it". They enjoyed making their own Rainbow snake, working together to stick the pieces on – so much sellotape!
Listening to girls
I think it's important to listen to the girls, find out how they view Rainbows and what makes it great for them. This helps us know how to take it further in the future. A parent told me, regarding her daughter, "Madeleine enjoys talking about Rainbows whenever the opportunity arises because she loves it so much, and this activity really engaged her. She likes being asked her opinion so a task like this makes her feel happy and involved".
Being able to bring my own aspect to the meeting, by introducing Cecil, also made the activity more 'mine'. Cecil enjoyed visiting Rainbows and finding out all about it, but doesn't think he'll come back every week, he'll leave that to the people!
Janet, Leader – 1st Wivenhoe Rainbows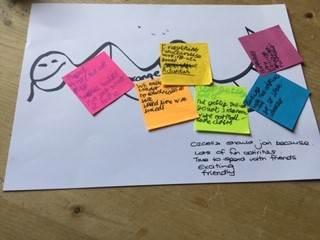 Brownies informing the future
In a world where young people do not always have a say I think it's extremely important and very welcome that we are empowering all our girls to have their say and help shape the future of Girlguiding. As a leader I feel that this has come just at the right time – combining new programme unit meeting activities with informing a strategy for the future.
Our Brownie unit is mainly made up of extremely lively 7- and 8-year olds who have different needs, love games, making things and having fun together. Working on the Brownie snake activity was something some may have said the girls would find too much of a challenge or boring, but they would be completely wrong.
We kept it simple so the sixers could lead from the start of the activity by drawing the snake which they loved and made them feel important. The room was full of fun and laughter and both Brownies and leaders learned lots about each other's thoughts and experiences. It was also good for us to hear how the girls felt about us!
As a leader I'd recommend you give these Strategy 2020+ activities a go. They're free and a fantastic way to get girls from all sections thinking about what makes their units and guiding great.
Wendy, Leader – 3rd Horncastle Brownies
Your girls having their say
So, have Janet and Wendy peaked your interest? You have until 31 March to run the strategy actvities with your unit and feedback their ideas. Why not give them a go?
Try our strategy activities