Strategy 2020+ - What you told us
What do you think our next strategy should include? Here's what people all across guiding have told us
Over the summer we asked Girlguiding volunteers, 14+ young members, parents and staff across the country to tell us what they thought of our draft strategy for 2020+. 18,100 of you got back to us - and here's what you told us!
We really wanted to look outside guiding as well. And hear from potential volunteers, young members and parents. To get that external perspective, YouGov tested the strategy principles with adults, girls aged 10-18 and parents who aren't in Girlguiding.
Our draft strategy principles were developed from everything you and your units told us in the surveys, workshops and unit meeting activities we've run this year.
So what do our members, and those outside the organisation, want to see us doing? What's important to you? We've been analysing everything we found out, and here's the top themes.
Everything we've found out throughout the Strategy 2020+ project will feed into how we develop our plans for the next five years.
What's considered important for Girlguiding?
Accessibility and inclusivity - This was the top theme for young women and adults both in and out of Girlguiding. We want guiding to be accessible to as many girls and young women as possible. Regardless of background or location.
Confidence - Everyone agreed that building girls' and young women's confidence is the key purpose of Girlguiding.
Empower - Girlguiding should help volunteers to use their skills and talents to empower and support girls and young women. All groups wanted to focus on this.
Fun - Girlguiding is a place for girls and young women to relax and have fun. This was a top theme for volunteers, staff and parents.
Caring - Everyone agreed that caring for and helping others in our communities is an important part of Girlguiding.
Equal - Girlguiding should make a difference to society by helping it be more equal – making change on issues important to girls and young women.
Taking this forward
All your feedback and comments will be used to help shape how we deliver the strategy and the direction Girlguiding takes over the next five years. We'll be looking at:
Our ways of working
Improving our systems and processes is important. We can promote the volunteer, parent and young member experience by reducing the administration burden on volunteers, being clear about who does what, and simplifying how we do things.
Taking Girlguiding to more girls and young women
Inclusivity was a top theme in your 'free text' comments. By concentrating on inclusivity we can build a Girlguiding that is accessible to all girls and young women, whoever and wherever they are.
Communication
Also a theme in your free text comments - improving our communication between all parts and all people in Girlguiding will help us deliver guiding better. Parents would like to hear more about their daughter's guiding experience. We'll all benefit from communicating the value and opportunity Girlguiding offers more widely.
Supporting volunteers
We want to make sure volunteer roles are flexible and volunteers feel supported with mentoring, coaching and easy access to training and information. So everyone can continue to deliver better guiding.
The next steps
We're now working behind the scenes to look at where we concentrate time and resources first, and what might take more time to deliver well as we prepare for our Girlguiding future.
The strategy project is in its final stages before being agreed with trustees at the end of this year. We'll keep you informed with updates and more news.
Be inspired by other Girlguiding volunteers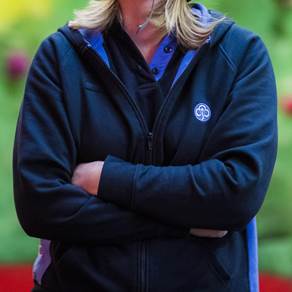 Maxine
Commissioner
'We run a Guiding and Scouting programme during visiting times at a nearby prison for kids with parents in prison. The kids love it. We know that a few have joined local Guiding or Scouting groups after taking part in sessions at the prison.'