Reviewing our leadership qualifications
Our new volunteers Melanie and Charlotte get you up to speed with the Young Leader and Leaders qualifications review
Charlotte and Melanie, Lead volunteers
25 March 2018
Last year, we told you that we'll be reviewing the Young Leader and Adult Leadership qualifications.
We're now very excited to introduce our new specialist volunteers – Melanie and Charlotte – who'll be working hard to make sure we develop and deliver fantastic leadership programmes for leaders and young leaders.
Meet our new volunteers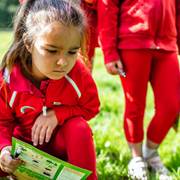 Charlotte Lewis
Hi, I'm Charlotte. As a leader in training, volunteering with a Rainbow unit, I have a very up-to-date perspective of what it's like to undertake the qualification.
I'm very excited to be part of this project, working closely with Melanie and Fran (our staff lead) who are both experienced unit leaders. As an occupational psychologist I'm very passionate about, and bring a wealth of knowledge and experience of, learning and development as well as leadership development.
Melanie Kirkcaldy
Hello. I'm an assistant leader, and I've been with my fantastic Brownie unit since 2010. In completing my Adult Leadership qualification, I've been able to learn so many new skills and meet lots of inspiring volunteers along the way. I came away from the qualification with some invaluable insight and so many ideas of how it could be further improved, so I was really excited when this opportunity came up.
I want to be able to contribute to developing our future adult and young leaders in Girlguiding, and feel I can bring my experience along with my professional skills and knowledge in learning and development to this. I'm very thrilled to be working on this project alongside Fran and Charlotte, and the wider learning and development staff and volunteer team.
Having your say
We're carrying out the Leadership qualification and Young Leader qualification review at a time when we're able to align it to the new programme and the quality standards. We're also using everything we have learnt from national and local pilots, such as Lead into guiding and Improving access to guiding.
Reviewing both qualifications gives us the perfect opportunity to bring them up to date and incorporate some of the feedback and changes suggested by volunteers. Over 1,500 of you took part in our face-to-face, phone and online consultations last year, and much of the feedback given certainly resonated with us and our experiences of the qualification.
What you've told us so far
You've told us you want:
The books reviewing for both qualifications to make them easier to navigate, less daunting and more engaging
The mentoring structure improved to help those completing their qualification to provide them with more consistent and accessible support
More training opportunities for young leaders
A strong desire for prior learning and existing skills to be taken into account
An interest in accreditation
Being our Best states that 'by 2020, we will empower more girls to find their voice and be their best through high-quality, girl-led programmes delivered by inspirational Leaders' and we recognise that a lot of that sits with the leadership development opportunities we give our members. We're really excited about launching the reviewed qualifications next year and wanted to thank everyone that has been involved in the review so far.
How you can help
Stay tuned! We'll post more updates as we have them, so you can be sure you have the most up to date information about the project. There will be plenty of other opportunities to get involved over the coming months, so look out for more exciting news from us.
Girls making a difference