Queen's Guide award - making things clearer
We've made some changes to two elements of the Queen's Guide awards - find out what's different
We've made some changes to the Service in guiding element four and Outdoor challenge elements one and two of the Queen's Guide award.
If you're involved in supporting Queen's Guide candidates, or working on your award, here's what you need to know.
Service in guiding element four (SIG4)
More opportunities
The aim of this element hasn't changed, it's been updated to include opportunities at county level and above.
Candidates currently completing this element don't need to change what they're doing, unless they want to – everything that counted under the old syllabus will still be elligible.
SIG4 icon
Members told us that knowing what counted for SIG4 was challenging, so we've created an icon that can be put on opportunities to show they count. To find out who can authorise this icon, see the guidance on the Queen's Guide award page.
Outdoor challenge element one (OC1)
We've updated this element to include a pathway for candidates who don't want to or are unable to do their Going Away With licence or Lead Away permit.
Candidates aged 18 or over can plan a two-night 18-30 residential instead.
Candidates who are under 18, can either complete the new Lead Away permit for this element or wait until they are 18 to do either an adult residential or complete their Going Away With licence.
If there are candidates who are currently completing the Senior Section permit for their award and haven't yet finished, they can either complete the Lead Away permit or (if aged 18 or over) plan an 18-30 residential.
The content of the Lead Away permit is mapped across from the Senior Section permit.
Outdoor challenge element two (OC2)
More accessible
We've changed the distances required for expeditions to be on the basis of time rather than distance. Candidates will do eight hours of activity, with at least four spent travelling. This means candidates aren't pressured to travel distances faster, but instead can focus on what they do each day to meet their aim.
We've also included an option to travel by wheelchair for the expedition.
New resources
We've updated the online Queen's Guide award resource with the changes to Service in Guiding element four and Outdoor challenge elements one and two outlined above.
There's also a new record book you can order from our online shop. If you've already got one, you can still use this to record your award.
Find out more
Download our full guidance on these changes to the Queen's Guide award - perfect for coordinators and mentors.
Download the guidance
Be inspired by other Girlguiding volunteers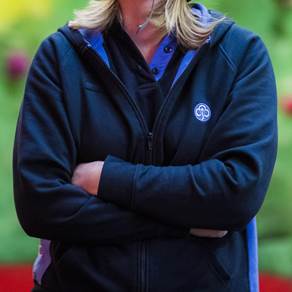 Maxine
Commissioner
'We run a Guiding and Scouting programme during visiting times at a nearby prison for kids with parents in prison. The kids love it. We know that a few have joined local Guiding or Scouting groups after taking part in sessions at the prison.'