Our guiding stars
For World Thinking Day, we celebrate women who have been recognised in the New Year Honours for their contributions to guiding and their communities
Girlguiding
17 February 2017
We're all part of the guiding experience.
Meet some of the brightest stars in guiding
Members of Girlguiding and the Trefoil Guild share what they've learned during their time in guiding and thoughts about the future for members in the UK and around the world.
Alison Spurway, County Vice-President, City of Glasgow
OBE for services to Girlguiding and charity
We must create a space for girls to fail and try again.
From a lifetime in guiding - with all its joys and challenges - I've learned that we must create a safe place for a girl to fail. And when she fails she must be supported to try again, and perhaps again. Firelighting is a good example. It is common for children today to be unfamiliar with matches and how to get a flame and build up a fire. The first time she will fail but if she is encouraged to keep trying, she will build up the resilience she needs for life.
I have seen what guiding does in countries where the status of women is low.
We are an organisation that welcomes girls from all religions and ethnicities. We must make sure that our communities know that and make it clear that Baden-Powell wanted to create an international organisation.
I have seen what guiding can do for girls in countries where the status of women is very low. It provides a safe place for them to develop their potential and to increase in confidence, with the help of good role models.
Photo from the Olave Baden-Powell Society Annual Event in Sangam, November 2016.
Christine Wicks, Worcester Park and Greater London West
MBE for services to Girlguiding
Guiding is about friendship.
I have made many friends through guiding and find it amazing that at any event you can just talk to anyone. My Brownies often say 'Do you know that lady?' – of course not but she's a Guide Leader! We've sought out units around the world while on family holidays – it's wonderful to be part of a huge international family.
We must be proud of our amazing organisation.
We need to publicise what we do and be proud to be part of this amazing worldwide organisation. We are naturally modest about our achievements but that means many people don't realise we still exist! Every day girls enjoy amazing opportunities – we need to make sure our local communities know that.
Sue Kitchener, Chair of Newbury Trefoil Guild
MBE for services to Girlguiding
There's always someone there to help and support you.
One of the most important things that I have learned during my time in guiding is that as a Leader you're not alone. You are part of an amazing organisation who locally and nationally are always there to help and support you. Guiding is great fun and to be enjoyed by both girls and adults. We are all part of the guiding experience.
Spread the word.
To increase our membership we need to spread the word. Talk to friends and colleagues, tell everyone how fantastic guiding is and what it has done for you. Make sure your local community know who we are and what we do and you'll attract potential girls and Leaders.
Ann Malling, former Chair of Yeovil and Somerset Trefoil Guilds
BEM for services to Young People
Help someone every day.
During my time in guiding I have found there is an opportunity to help someone every day. This came from my Promise and it is part of me.
The Trefoil Guild has opened up the UK and the world to me. Through Benoni (South Africa) Trefoil Guild, I fundraised to pay for half of the roof of a children's home and then took the money out to them. On my next visit, I was delighted to see the children happy in their twin rooms and not as crowded as before.
We need to find the Leaders of tomorrow.
To make guiding grow we need Leaders and volunteers. They can be hard to find but we must emphasise what people will receive as well as what they'll need to give. We must tell them about the fun and friendship of guiding.
Susan Aglionby, Carlisle
OBE for services to young people and the community.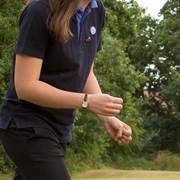 Patricia Levitt, Barnsley, South Yorkshire
MBE for services to the community.
Do you know an inspiring volunteer?
Tell us about a volunteer that you know and what they've done for girls in your local area.