The latest on our learning platform
Lots of work has been going on behind the scenes to get the learning platform ready.
Michelle Parry-Slater
02 November 2021
Over the summer the learning and development team and specialist volunteer, Michelle Parry-Slater, gave an update about the new learning platform. Let's see how they've been getting on…
It's been a busy year. Lots of work has been going on behind the scenes to get the learning platform ready for volunteers to use. But first, let's recap.
Why are we creating a learning platform for volunteers and what's it all about?
As part of Girlguiding's Strategy launched in 2020 we set out three goals for Girlguiding. One of those goals is developing a rewarding volunteer experience – and we can't do that without up-to-date learning for all volunteers that's easy to access and use.
We've been learning from lockdown and the experiences we've all had guiding over the past year and a half. These have made it clear how important it is to develop our learning strategy and keep offering learning to volunteers in lots of different ways, including online. This resulted in a project to develop an online learning platform that can help everyone learn in a way that works for them.
The learning and development team and have been taking the time to listen to volunteer feedback and what you need from your training. We have hundreds of brilliant volunteer trainers, but we simply can't reach everyone – whether that's due to geography, time, mobility or anything else impacting all our volunteers' busy schedules.
So, after securing full funding, we kicked off the learning platform project and went out to survey and interview volunteers about what you wanted.
We learnt that:
Volunteers wanted to have the opportunity to learn on your own time in a way that suits you.
Volunteers wanted to find out training event details easily in one place.
Volunteers wanted to know what learning was available so you can continue to develop and grow.
Trainers wanted to find all their training events in one place.
Trainers wanted to share resources with each other.
This has all gone into the development of a new learning platform for all volunteers.
What have the team been up to?
With the funding, we started working with Learning Pool – a well-known learning company – and started creating, building and populating the new platform throughout 2020. We now have a work-in-progress platform that's being tested.
We've been testing the platform with industry experts and volunteers to make sure it's working correctly and can meet all of our needs. Originally, launch was going to be later this year. We've moved this to early 2022 because getting the platform to talk to GO and work with Girlguiding's complex hierarchy brought up some challenges which the team needed to fix. And we want to make sure things are running as smoothly as possible.
What's happening next?
Early in 2022 we will launch the learning platform. All volunteers will get a log in and you'll be able to look around, explore it and see how it can work for you.
This will be the first version of the platform because we want to get it to volunteers as soon as possible, and we'll be gradually building extra functions into it over time. Plus, we want your feedback and to understand how you're finding it.
From launch, all e-learning modules and national webinar bookings will be available through the platform. Then over 2022 we'll be moving our qualifications onto the platform and working to get local sessions booked through it too. We can't wait to hear how you find it.
Watch out for more information about the platform coming in the new year.
Working alongside our platform provider Learning Pool, the volunteer learning and development team, and the digital teams has left me in awe. They're all working so hard to get this right for volunteers. The complexities of being the largest youth organisation for girls and young women has thrown up delays, but I'd rather we delay and get it right than we rush into it and volunteers have a poor initial experience. Anything worth doing for people that are giving up their time to volunteer, is most certainly worth doing right. That said, like all things which are new, there may be teething troubles, and I am happy to hear from and represent volunteers in voicing those. I'm confident that over 2022, as the learning platform builds, we'll have a brilliant learning solution for all our volunteers which will support and complement our trainers, both webinar and in person. This is such an exciting time to be in learning and development, and in Girlguiding. - Michelle, specialist volunteer
Be inspired by other Girlguiding volunteers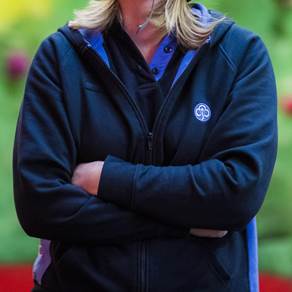 Maxine
Commissioner
'We run a Guiding and Scouting programme during visiting times at a nearby prison for kids with parents in prison. The kids love it. We know that a few have joined local Guiding or Scouting groups after taking part in sessions at the prison.'